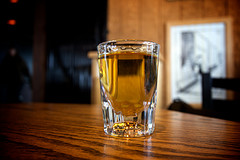 I'd never seen it before but Devin Leonard saw a $2 up-charge on his bill after he ordered his whisky neat. The argument was that by not putting in any ice, the bartender was putting in more whisky. As someone who has ordered scotch neat on numerous occasions, I've never seen an up-charge on my bill. Now, if the bar just added $2 to their normal charge and not said anything, I wouldn't be the wiser but no one has explicitly included one.
That made me wonder, would they put more whisky in a glass if it had no ice? I've always understood places to use liquor pourers that controlled the amount of liquor that came out – precisely one shot (1.5 oz). If your order called for a certain number of shots, how much did $2 represent? Was it an extra shot? Did you get 4.5 oz. in your drink at $6 and now get 6 ounces for $8? It just doesn't seem to add up in my mind.
Personally, I think it's just a money grab. Maybe the bar doesn't have the proper controls in place (they're not using pourers, they just eyeball it), in which case they're just passing their laziness onto the customer. If they want an extra $2, just charge $2 more. I'm not against bar owners making money, I'm against this type of overcharging because it's unfounded.
Heck, they should take off five cents because you didn't ask for ice!
(Credit: Jeremy Brooks)