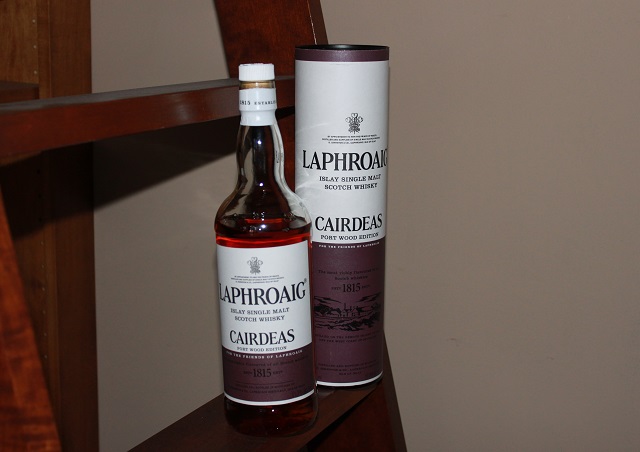 A short while ago I was wandering through the whisky section of Total Wine when I saw something new (to me) – Laphroaig tube boxes in colors other than their classic white. If you're a fan of Laphroaig, then you'll recognize that their tubes are generally that classic white color with some green accent colors. Whether it's the classic 10 Year or the Quarter Cask or something else, it's generally the same design.
So it caught my eye when I saw the Laphroaig Cairdeas and it's deep rich purple accents. Laphroaig finished in port? It almost seemed like an oxymoron because you don't generally associate the sweetness of port finishes with a Islay, which are known to be smoky, peaty, and medicinal. I was intrigued, to say the least, so I picked up a bottle.
Cairdeas means friendship in Gaelic and the term is meant to celebrate their Friends of Laphroaig program. There are several lines in the Cairdeas "family" and the one I enjoyed was the Port Wood finish. It's aged in Bourbon casks for 8 years and then finished in Port pipes for 14 months.
Some odds and ends: It's non-chill filtered, all natural color (nothing added) and bottled at 51.3% alcohol by volume. It's technically cask strength.
Tasting Notes:
Color: Rich pinkish/amber color, closer to Macallan in color than the yellowish tint you typically associate with Laphroaig.
Nose: Peatiness that is masked a bit by a port sweetness, salt ocean air mist
Palate: Cinnamon, butterscotch, spice, molasses, oak, delightful smokiness (it reminds me of hickory smoked pork ribs rubbed with a brown sugar)
Finish: Long, warm (51.3% abv!), hint of fresh citrus fruity
So here's the kicker, especially if you're a big fan of Laphroaig — there's no medicinal flavor. Or at least I couldn't get it. That hint of iodine, that I associate with Laphroaig, is gone. I wondered how the port finish would meld with that aspect of Laphroaig and it turns out it either completely masks it or it never got in there to begin with. Also, the peat you get from the 10, it's muted in the Cairdeas Port Wood Edition. It's just not as "in your face" as in the 10 and since that's a hallmark of the 10, it bears noting.
Overall, I really liked it. I actually said "wow" on the first sip because I didn't expect the port to have such a huge impact, knowing that it spent "only" 14 months in port pipes. The port imparts a lot of sweetness and I loved how it worked with the smokiness/peatiness. I wish I had some 10 Year on hand to compare and contrast, that would be fun, but I guess I'll just have to head out to the store soon! (and pick up another one of these)
What's kind of fun, and probably increases the price (retail is around $75-80 per 750ml), is that this is a limited edition (but they've done it for three years now) — I'll probably get it every year just to see how the marriage goes. 🙂