Whisky doesn't often need to be mixed but I'm a sucker for a tasty cocktail.
Today, I bring you "The Apple Claus." It's a creation of Laura Moore of The Epicurean Hotel Edge rooftop bar (I love that they call themselves a Social Drinkery) and it sounds pretty tasy.
The Apple Claus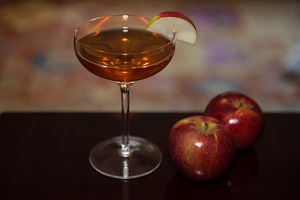 1 1/2 oz Four Roses Bourbon Small Batch
3/4 oz Apple Cinnamon Tea syrup
1/2 oz Lemon Juice
Dash of angostura bitters
Shake and strain into a chilled coupe and top with sparkling wine (prosecco, champagne or Apple Cider.)
Garnish with an orange twist or apple slice.
I enjoy citrus-y cocktails and this one is a reminder of a Manhattan except you use cinnamon tea syrup instead of vermouth (a fortified wine) and add a bit of sparkle to give it some fizz.
As for Four Roses Bourbon Small Batch – it's a fine bourbon that works well in this cocktail. I enjoy it neat (haven't tried it on the rocks or with water, it's 45% abv) and it's mellow sweet notes work well in an apple/citrus type of cocktail. Very nice.