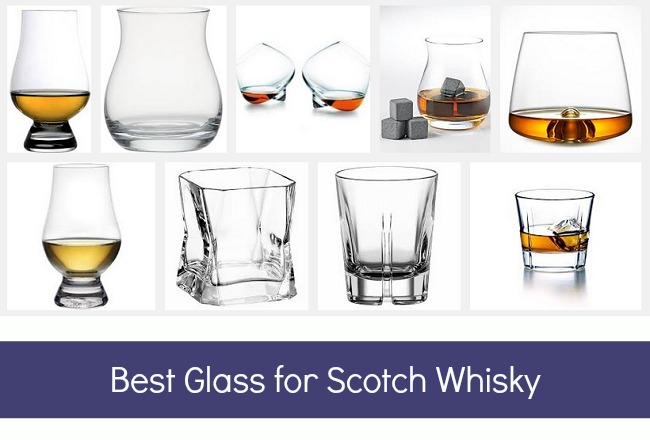 When I visited Scotland and went on a few distillery tours, I noticed that the glassware varied as much as the scotch. I had figured, after centuries of enjoyment and experience, we'd have settled on one type of glass best suited for scotch. Unfortunately, that issue remains unsettled. Watch a few episodes of Mad Men and you come to the same conclusion – it's not entirely clear which type of glass is best for this special spirit.
So I set out on a quest to find out which one was best. The four contenders were a Glencairn style glass, the Copita Nosing Glass, a Reidel Vinum, and a classic tumbler style glass (these are the glasses I had).
Glencairn Whisky Glasses
The Glencairn Glass was created by Glencairn Crystal Ltd. and the design was inspired by the nosing glasses used in whisky labs. It's a distinct design that I fell in love with when I visited distilleries in Scotland (I picked up two branded ones from The Macallan and The Glenlivet, which became the basis of this test). As you'd expect from a design based on nosing glasses, the smaller tapered opening allows for a concentration of the scents of the scotch.
When you put your nose into the glass, you very clearly get a lot of the aroma. When you sip scotch, again the aromas are directed, almost like a laser, to your nose for maximum enjoyment. If you're new to drinking scotch, with it's 43%+ ABV, this can be overwhelming. You might have to add a few drops of water in order to open it up and take a bit of the edge off.
These glasses are best designed for someone who is enjoying their scotch neat or with a few drops of water. While not impossible, it is more challenging to put ice in the glass given the smaller opening.
On the plus side, Glencairn whisky glasses are inexpensive.
You can get buy one glass for ~$10 or a set of two for ~$15.
Copita Nosing Glass
The
Copita Nosing glass
is the only glass I don't own but it's the glass that Richard Paterson, Master Blender of Whyte and Mackay,
recommends
you use.
The Copital is shaped like a tulip, which facilitates nosing, and it's what they use at the distillery. Much of what I said about the Glencairn glass applies to the Copita too, you can see how similar the two are.
Pricewise, it's reasonable and it resembles a wine glass in its shape.
Riedel Vinum Single Malt Glasses
I was given a set of
Riedel Vinum Single Malt Whisky Glasses
by my wife for a previous Christmas and I'm a big fan of the glasses. Riedel makes a whole line of glassware and their hallmark, at least in my mind, is that the glass is often high quality and remarkably thin.
From a design perspective, it opens up at the lip rather than closes in. Whereas the Glencairn almost focuses the aroma on your nose, this one doesn't. The idea behind opening it up like this is so that the spirit "opens up" as it hits your tongue and lips. As a frequent user of the glass, I don't know that much happens different if it "opens up" for the few millimeters before it gets to me!
What I do like about the glass is that it's thin, so I don't feel like I'm carry a bulky glass, and the opening is better suited for my nose. I don't feel like I'm inhaling everything and so I don't get an overwhelming nose, which I would get if I was too enthusiastic in sniffing a scotch in a Glencairn.
As was the case with the Glencairn, it's best to avoid putting ice in this as it's a more delicate glass and there isn't really much room. On the downside, it's more expensive than any other option here.
Buy Riedel Vinum Scotch Glasses (pictured)
The NEAT Whiskey Glass
This is a relatively new entrant into the world of whiskey glasses. NEAT stands for Naturally Engineered Aroma Technology, which is hokey and terrible sounding, but by the shape of the glass you can already see that it looks the part.
The logic behind the NEAT glass' shape is that you want a large surface area on the whisky in order to maximize evaporation of vapors, which helps in nosing. The neck tapers to concentrate – all of this is similar to every other glass. Then the neck widens and they claim it allows the harsh alcohol to diffuse leaving you without the alcohol punch.
I've never used it but it is the official tasting glass of the 2013 San Francisco World Spirits Competition, which is one of the most prestigious competitions for spirits. I'm not sure if it was adopted for 2014, though I suspect so.
Old Fashioned Tumblers
An Old Fashioned Tumbler is what most people think of when you talk about a tumbler (or lowball tumbler, as opposed to highball glass). It's designed for mixed drinks, like the Old Fashioned after which it was named, and for enjoying whisky on the rocks. (Incidentally, an Old Fashioned is a lump of sugar, two dashes of bitters, ice, a lemon-peel, and a jigger of whiskey)
My favorite of the bunch is the one in the image above from Mofado. What's nice is that it's lead-free crystal but they're heavy. The feel premium because of how nice they look and the weight they carry in you rhand.
I don't often enjoy my scotch on the rocks but if I did, I'd go with a tumbler. It's the only glass where ice "feels" right and there isn't much of a design here to accentuate any particular aspect of the scotch. I don't think you lose anything from drinking scotch neat from a tumbler, the other designs just accentuate something that's already there that you are getting anyway.
Buy Mofado Premium Whiskey Glasses – Lead Free Hand Blown Crystal – Thick Weighted Bottom – 12oz Set of 2 – Seamless Design – Perfect for Scotch, Bourbon and Old Fashioned Cocktails
The Rest
The Glencairn, the Riedel, the Copita and the Tumbler are the classics when you think about whisky glassware. There are, however, a million other types of glassware and any one that holds a spirit you could sip near (brandy, bourbon, tequila, etc.) will have properties that make it suitable for drinking scotch.
There are also fun rocking glasses, like these Normann Copenhagen Liqueur Glasses. Rocking (or swirling) glasses can be fun but they always make me nervous, so my case just has the classics.
If you're looking for a more traditional looking glass that looks like a wine glass, might I recommend a snifter. Brandy is "burnt wine," which is to say it's distilled wine (whisky is distilled beer), with a typical alcohol by volume of 35-60%, which is the same range as whisky.
Finally, you could always skip glassware and buy a whisky flask if you're on the go. 🙂
Susquehanna Glass Brandy Snifter Glasses, 12-Ounce, Set of 4 (pictured)
Do you have a favorite glass for scotch?
Image Legend:
Top Row, left to right: Glencairn, Canada Glencairn, Normann Copenhagen Liqueur Glasses, Canada Glencairn w/ Whiskey Soapstones, Normann Copenhagen Whisky Glass
2nd Row, left to right: Glencairn, Blade Runner Deckard Whiskey Glass, Libbey Foodservice Whisky Glass, Rosendahl – Grand Cru Whisky Glass