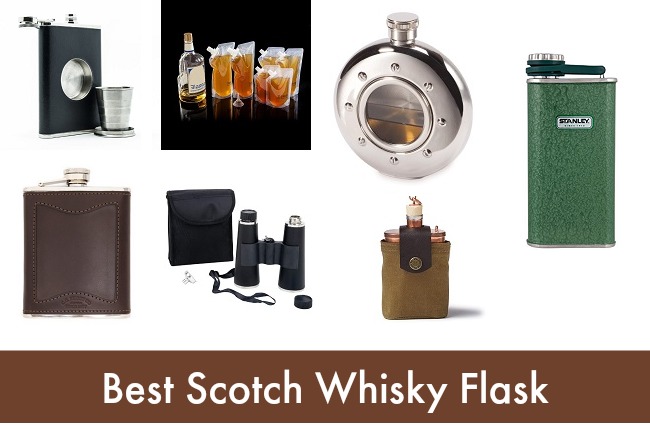 Scotch is best enjoyed in a whisky glass, no question, but sometimes you're on the go and you want to bring a little bit of the good stuff with you – what do you do? Bring a whisky flask.
What do I look for in a flask? I want it to look classy, be stainless steel (18/8 or 18/10 stainless steel, a.k.a. Type 304 Food Grade), hold a decent amount of whisky, fit in my pocket, and have a screw top. Bonus points if it comes with a funnel, but I already have a funnel so no big deal there.
Leather, Leather, Leather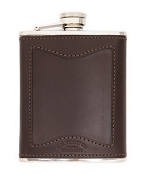 I agree that "look classy" is a vague term but when I think of a classy flask, I think of one that's wrapped in leather. Not patent or fake leather, not the cheap stuff either. I prefer the real stuff – bridle leather (look up how much time, material, and effort is put into the finishing process of bridle leather). This is the stuff high end shoes and purses are made out of.
Why do I care about leather so much? Good leather looks good. The cheap stuff scratches easily, doesn't feel as nice, and you can see it a mile away. You will only ever need one flask and flasks are relatively cheap (we're talking under a hundred bucks), so why not get something nice? Why not get something that puts a smile on your face when you pull it out.
My recommendation on this? Filson Men's Flask in either black or brown (I like brown). It's pricier than the other options we have here, which don't have leather, but it's wrapped in leather, holds six ounches, and looks great.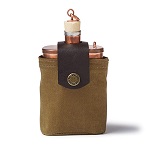 Filson has another flask that looks awesome but is a little out of most typical price ranges. It's a $225 copper flask with Tin Cloth holder. I've heard some less than stellar reviews of copper flasks so I don't include any on this list but I do enjoy the look of them. Over two hundred bucks keeps it in the realm of window shopping though, I'd rather spend that kind of money on scotch whisky.
Best Travel & Outdoors Flask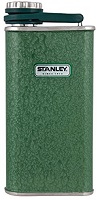 There's something classic about the Stanley Classic Flask. Maybe it's the green (comes in navy, black and pink… the navy looks nice too), the thick plastic outer shell that can take a hit, or the slim look.
Reviews are mixed on it though, so check them out if this look appeals to you.
Flask & Shot Glass Combination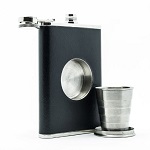 It's billed as "The Original" Shot Flask, not sure what "original" means, but this baby is a flask + shot glass in one. The shot glass collapses and fits into a chamber on the side of the flask. The flask itself hold 8 ounces and the shot glass holds 2 ounces. It even looks nice, with a bonded leather exterior, and the cap screws on (crucial). Even comes in a pink version!
Cheapest Whisky Flask
If you want the cheapest flask that gets the job done – get this one. It's under six bucks, holds 8 oz., has a screw down cap, comes with a funnel, and it's stainless steel. It checks all the boxes and if you lose it, who cares… it was six bucks.
At that price, honestly, it's practically disposable (but don't… think of the Earth!).
Disposable No-Metal Flasks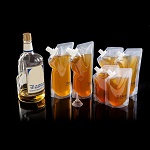 If you are going somewhere with metal detectors and you still want to bring a flask, this set of Blasani sneak flasks are your best option. The set is huge (four 32oz, two 16oz, two 8oz), contains no metal, and cheap enough that you can just throw them out in the end. Each bag has a screw top, the set comes with a funnel, and they're light.
Coolest Looking Whisky Flask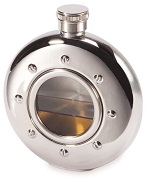 I really like the look of the Cork Pops Nicholas Portside Flask. It's a circular flask made of stainless steel and has a window, to resemble a porthole. It's one of the few flasks with a window. It is a screw top but the top isn't attached to the flask and the flask only holds 4 ounces, compared to the standard 8 ounces of many other flasks.
Second coolest? This Secret Binocular Flask! One look and you know they're not real but how much fun is it to have fake binoculars??? Not only does it look hilarious but it holds 16 ounces, 8 ounces per eye piece. Or get this camera flask, though no one will believe you own a camera with 8.1 mega pixels. 🙂
Finally, if you just need a funnel – pick up this stainless steel funnel for under two bucks.
Do you use a flask? Do you have a favorite?