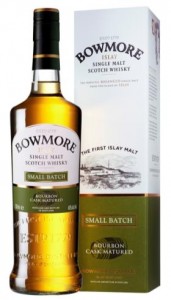 I was sent a sample of Bowmore's newest expression, Bowmore Small Batch, and as a fan of Bowmore (Percy in our Facebook group just picked up a first batch Bowmore – The Devil's Casks… I can't wait to hear how that is when he gets around to it!), I was eager to see their latest release.
The Small Batch is a mix of two Bowmores matured in two different bourbon casks, first-fill ex-bourbon and second-fill ex-bourbon casks. The logic behind this is that as you age the new make whisky in barrels, first-fill ex-bourbon barrels will impart a certain type of flavor and second-fill (and beyond) will impart a different set of characteristics. (as you use barrels more than once, they impart less of their character)
So the first fill is said to pass along the typical flavors you associate with a ex-bourbon barrel matured whisky – vanilla, sweetness, and some oak. The second fill passes more fruity flavors and honey. While it makes for a delicious dram, from the a business perspective it makes great sense to be able to use more barrels in a creative way. 🙂
Is it really an "accessible embodiment of Islay?"
Bowmore's descriptions claim that it's the "perfect and accessible embodiment of the Taste of Islay," and while I don't know if it's perfect (a term that's hard to define), it's certainly accessible.
In terms of the smoky, peaty, iodine (band-aid) punch most Islays bring, this one is really just a gentle reminder of its origins. There's a bit of peat smoke on the nose, a little on the finish, but nothing like the Islays you might be familiar with, especially if you love Islays.
If you have a bourbon friend who has heard of Islay but a little timid about peat smoke, this is a good way to gently introduce them to the wonders of Islay scotch. It has all the reminders of bourbon but its feet are still firmly in Scotland.
Tasting Notes
Color: Golden yellow
Nose: A vanilla-y sweetness with a fair amount of smoke, peat – enough to know it's an Islay but not so assertive about it.
Palate: Citrus and saltiness, vanilla, with slight oak and honey
Finish: More characteristic vanilla and again the Islay roots peeks its head out, but not as much as on the nose
It weighs in at 40% ABV and priced at $39.99/750ml, very affordable and financially accessible as well.
Personally, I'm not quite sure if it's for me. When it comes to food or drink, I like it when something is big and bold and assertive. I like my Islays to smell and taste like a campfire the next morning (ok ok, taste like the campfire smells… I've never tasted a campfire!).
I like my food to be really spicy when it's spicy. I want my seafood to taste like it just came out of the sea. This one seems to be an Islay on training wheels and the bourbon influence isn't distinct enough to make it really put forward a single assertive foot.
But that's not what the Single Batch seems to be about. It's trying to gently introduce someone to Islays, which Bowmore certainly is, and I think it's trying to introduce themselves to a new market and show that Islays don't have to be scary and smokey and peaty. On that score it succeeds.
Have you tried it? What do you think of it?