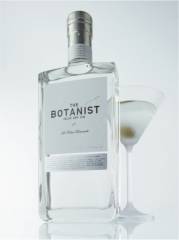 Did you know that Bruichladdich, a famed distillery on Islay, made gin? My first favorite drink is whisky neat, usually a single malt but I'm hardly a Scotch snob, but my second is a gin & tonic. My favorite gin is, by far, Hendrick's. I bought it once for a friend of mine who is a much larger gin & tonic aficionado, since it came in a really nice looking bottle, but upon trying it with him I fell in love. The cucumber is fantastic.
So, imagine my surprise when I saw that Bruichladdich makes a gin called The Botanist, a small batch artisanal Islay gin.
… we use nine of the classic gin aromatics – orris root, cassia bark, coriander seed, etc – and augment these with a heady harvest of 22 wild, native island botanicals, hand-picked by our expert foraging team from the windswept hills, peat bogs and atlantic shores of this Hebridean island of Islay.
I'll have to keep an eye out for it and give it a whirl.