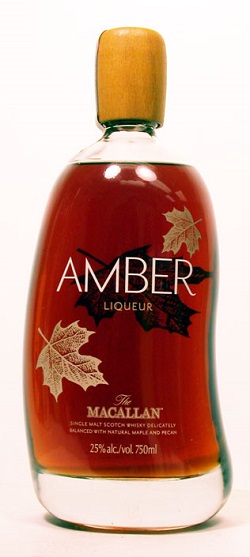 Several years ago, I visited The Scotch Whisky Experience in Edinburgh and was introduced to something I'd never heard of before – The Macallan Amber. We didn't take the Experience tour, we simply ate at the restaurant, and the waiter suggested something that was novel at the time – whisky "balanced" with maple syrup and pecans. You could drink it straight or enjoy one of the desserts that used it as an ingredient. My friend, who wasn't big on whisky but loves to try new things, got a glass and I sampled it.
On its own, without knowing what to expect, it's not bad. It's very nutty because of the pecans and extremely sweet because of the syrup. As whisky, I found it terrible. The sweetness and the pecans just didn't do it for me. I could see how it could be used to make a fantastic syrup or component of a dessert. As a drink, I'd pass. I wasn't alone because it was discontinued.
Flavored whisky, as a trend, is not stopping. There are several American whisky producers jumping on the trend (Jack Daniel's Tennessee Honey, Jim Beam Red Stag, and Wild Turkey American Honey) but until recently proper scotch distilleries have held back… until now.
Now before you call my blog post title elitist snobbery, I don't look down on flavored whisky. It's also an issue of semantics and the Scotch Whisky Association believes that under European Union law it can't be sold as "scotch whisky." It's a "spirit drink" since it's not just scotch whisky, it has other components. So even the lawyers are involved!
Personally, I know I don't like my scotch flavored with anything so I'm doubtful these would appeal to me. That said, I'm always open to new things and willing to give anything a try just once. You won't know if you like it until you try it.