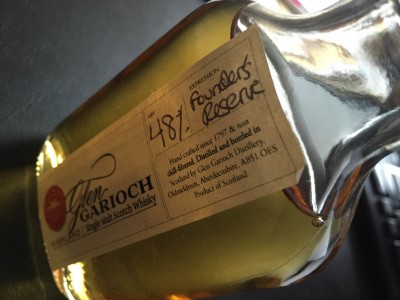 The Highland region is massive. It's basically all of northern Scotland with a little chunk removed, named Speyside, and is home to many well known distilleries like Glengoyne, Glenmorangie, Edradour, Dalmore, Macallan, Oban… the list goes on and on. Funny enough, it doesn't actually include Highland Park, which is located in Orkney which is part of the Northern Isles.
Glen Garioch, pronounced Glen Geery, was founded in 1797 and is located near Aberdeenshire – famous for producing the best barley in Scotland. It would make sense that a distillery call it home! If you're into trivia, it is the easternmost distillery. The distillery has had a wild ride, having been shut down and restarted a few times, most recently closed temporarily between 1995-1997, but is now in full production after renovation in 2009.
I've never been there before but they're one of several distilleries that allow you to bottle your own at the visitor's center, always a nice little treat.
Glen Garioch is currently operated by Morrison Bowmore Distillers, which is owned by Suntory.
But enough about the background, you're not here for a history lesson.
How's Glen Garioch's Founder's Reserve? This 48% abv spirit was made to celebrate the 200 year anniversary. Matured in bourbon and sherry casks.
Tasting Notes
Nose: Very subtle scents, took me a minute to pick them out. There's some vanilla, caramel and a bit of apple or some other kind of fresh fruit on the nose.
Palate: It packs a punch, owing to the 48% abv, but you get a creaminess and vanilla coming through, a very slight hint of apple but not sweet at all.
Finish: Medium finish, soft, vanilla, dries out
I remember linking up this tasting note for Glen Garioch 15yo (not what this tasting note is about, but same distiller) from a while back… different strokes for different folks. 🙂
A tasty dram, a nice high ABV that still has subtle flavors. It really opens up with water, which I needed because of its higher ABV, and the vanilla and caramels shine.