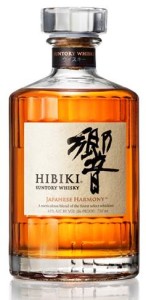 It shocked the world when Jim Murray, author of The Whisky Bible, named The Yamazaki Single Malt Sherry Cask 2013 as the best whisky in the world. It was the first time, in the 12 year run of The Whisky Bible, that the first place spot didn't go to a whisky from Scotland. In fact, Murray didn't put any Scotches in the top five!
Yamazaki is a product of Suntory, which also makes The Hakushu and The Hibiki. Yamazaki and Hakushu are both single malts, Hibiki is their blend and means harmony in Japanese (fitting for a blend). Today, I had the pleasure of sampling Hibiki's latest no-age statement whisky – Hibiki Japanese Harmony.
In Japanese culture, there's a reverence of craftsmanship. If you have Netflix, watch Jiro Dreams of Sushi, it's a documentary that chronicles the life of 85yo Jiro Ono, considered one of the world's greatest sushi chefs. He runs a 10-seat, sushi-only restaurant located in a Tokyo subway station and was awarded a 3-star Michelin Guide rating. That's astounding, until you watch the painstaking detail and world class craftsmanship involved.
I bring that up because harmony with nature is another highly regarded belief, one that's harder to demonstrate (certainly in a documentary), but that harmony is what Suntory Chief Blender Shinji Fukuyo was aiming for in the Hibiki Japanese Harmony blend. The best way to give you an idea of what they were trying to achieve actually comes from their manufacturing notes:
Hibiki Japanese Harmony is heralded as the foundation of the Hibiki range, leveraging the same key malt and grain whiskies from the original Hibiki blend, Hibiki 17 Years and Hibiki 21 Years. American White Oak malt whiskies create a solid base. The rare Mizunara (Japanese oak) and sherry cask malt whiskies are the dressing. The smoky malt whiskies enact as subtle accents to create depth and further complexity. Grain whiskies from Suntory's Chita distillery act as the "dashi,"or broth, to complete the personality of the malt whiskies and enhance their overall harmony.
There's a lot going on in the blend and the fun part is that they tell you.
Tasting Notes:
Nose: Floral sweetness, emphasis on the floral, some pine and sandalwood
Palate: Caramelized honey akin to sherry (it's one of the sweetest I can remember), candied orange, cinnamon (think about the baking area of your spice drawer… that whole smell of cinnamon, nutmeg, etc), rosemary, a little smokiness that surprised me
Finish: Medium finish and clean, some dark chocolate sweet bitterness, lingering honey
Overall, it's a light whisky with a lot of fun flavors, heavier emphasis on the floral which is fun because you see that's what they were going for with Harmony. The aspect I wish I could recognize is the characteristics imparted by the Mizunara (Japanese oak) casks. It's like knowing there's a new type of stringed instrument in the orchestra but not being able to hear it because I don't know what to look for.
I've had some of Suntory's other creations and I see this one as a good way to get into Japanese whisky if you've never had any. It's bottled at 43% abv and retails for $68 locally – if I can find one, I'm getting one.