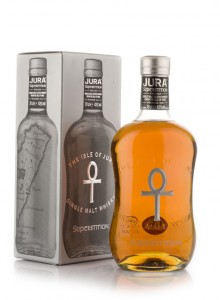 I was first introduced to the Isle of Jura after a trip back from the UK several years ago. I saw a bottle of the Jura 10yo in the Heathrow Duty Free store and bought it on a whim. All that I knew was that it came from the Isle of Jura and, as a whole, as supposed to be heavily peated like Islays. I knew to expect smokiness, as is the island style, and I wanted it to be a halfway point between a bottle of Bowmore and a Speyside I had purchased (I don't remember if it was a Glenlivet, Macallan, or Glenfiddich… it has been several years). I was not disappointed in the least.
It wasn't until later that I learned the more storied history of Jura and their 201 year history (2010 was their 200th anniversary). If you're wondering why they have such clever names like Jura Superstition and Jura Prophecy, it's because it ties back to the early 1700's. You can read about it in their library.
So how is the Jura Superstition? (a disclaimer, I'm now starting to battle seasonal allergies so my nose and palate may be a bit off) It's got a light smokiness that is reminiscent of their 10yo and it has some underlying floral and fruit notes that I can't place. It's got a bit of spice on the palate, not as aggressive as the ginger spiciness in Glenlivet 12yo, and strong rich nuttiness that lingers in the finish and something that I really enjoy.
Oh, and if you do get yourself a bottle, remember to pour it with the Ankh cross in the center of your palm or you'll regret it. 🙂