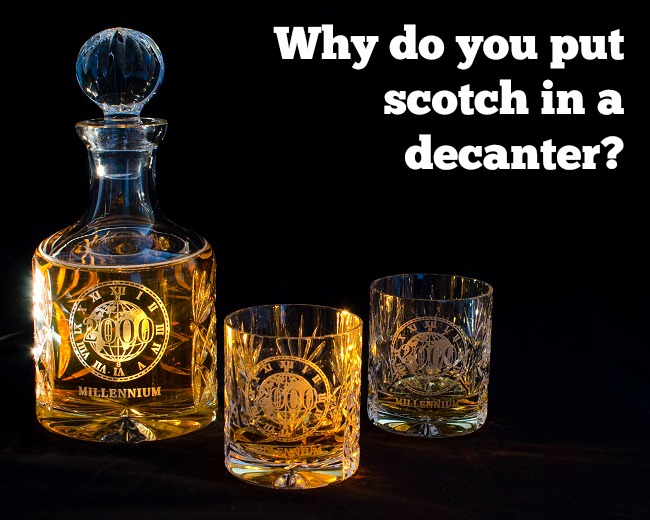 It's mostly for looks.
When you decant red wine, you are trying to do two things: separate the sediment from the wine and allow the wine to breathe. Over time, sediment in the wine will separate and settle at the bottle of the bottle. By decanting, you are pouring the wine into another container, the decanter, so that you may leave that sediment behind in the bottle. This is not an issue for whisky.
As for letting the wine breathe, it releases some of the wine's aromas, which have been trapped in a bottle for however many years. By letting it breathe, the flavors are released and the wine tastes much different than straight out of the bottle. You want as much surface area as possible, the more wine that touches the air, the better. It's recommended that you let it breathe for half an hour to an hour and never more than eight.
How does that apply to scotch? I don't believe it does. While it's nice for the scotch to breathe, the reality is that you will likely not finish a decanter of scotch within eight hours. If you do, well then the added subtlety produced by decanting would likely be wasted on you. 🙂
While it's good to let scotch breathe a little in your glass, with or without the addition of water, putting it in a decanter is mostly for looks (and there's nothing wrong with that!). Sometimes it's nice to have a display in which you have whisky in a decanter without all the commercial labels. So if you do want to decant, by all means go for it. Chances are it won't hurt your whisky any more than if you left it in the bottle.
What should you look for in a decanter? There are three crucial things to keep in mind when selecting a decanter. First, make sure there's an tight seal that doesn't let air escape or enter. When you you have a decanter with a good seal, it's not much different than the original bottle itself (you do get a little aeration when you transfer from bottle to decanter, so pour gently).
Next, makes sure it's big enough! 750ml, the typical bottle, is a little more than 25 ounces. Make sure your decanter is large enough to fit the whole bottle if you plan on pouring it all in. If you don't, then you can use a decanter of any size.
Finally, make sure it's lead free crystal. Most new decanters will be lead free but it's always important to make sure. Why are leaded crystal decanters dangerous? Over time, the lead can leach into the whisky to very dangerous levels.
Here are a few decanters that I really like:
The Ravenscroft Crystal Beveled Blade Decanter is a beautiful lead-free crystal decanter that has the classic crystal pattern for the lower half of the bottle but is clear at the top. I really like this 34 oz. decanter (enough to fit an entire Liter) because it nice and clear at the top, like a bottle, so you can see the beautiful colors of the scotch but it pays homage to the classic decanter style at the bottom.



The Ravenscroft Crystal Thomas Jefferson Decanter is a modern looking lead-free crystal decanter that comes in a beautiful gift box that makes it perfect for any Scotch lover. The design is a reproduction of a decanter owned by Thomas Jefferson and is a massive 46 ounce decanter that could hold a liter of Scotch (and more!). It doesn't have the distinctive sharp lines of classic decanters and it's lines are similar to that of a bottle itself, albeit a beautiful crystal one (rather than a class one with labels).



The Ravenscroft Crystal Larchmont Decanter looks stout in its photo but it has a 30-ounce capacity, which is over 887 milliliters (the standard size for a bottle of whisky is 750 milliliters), so it's more than up to the challenge of holding your favorite spirit. It is lead-free crystal and sits at 10.5″ high and 5.5″ wide. It is also shipped in a gift box so it's perfect for a gift if you're looking to spend less than $85.



A Luigi Bormioli Rossini Decanter with Stopper,23.75 Oz is a nice lead-free decanter that has a cork finish to ensure a nice seal. Only one downside, the decanter can only hold about 700ml, so comes in 50ml short of a standard 750ml bottle. The look is elegant and much nicer than you'd expect at this price tag.



If you're looking for a decanter set, the Dublin Crystal 8 Piece Whiskey Set is a gorgeous set that has a decanter, six double old fashioned (DOF) glasses, and a tray. It's made by Godinger, a company that been making beautiful glass and silver pieces since 1972 in New York. This set is lead crystal.
If you aren't in the market for a whisky decanter set, all of these decanters make for fantastic gifts with paired with some Riedel Single Malt Whisky Glasses! 🙂