Peat!
Phenols!
Once you enjoy a peaty scotch in front of a roaring fire, there are fewer things better. There's just something about staring at the flicker of the flames and enjoying a dram.
Chances are you've had some Ardbeg or Laphroaig or Lagavulin and you're wondering if there's more. Ardbeg is generally regarded as the peatiest and, in terms of the standard lineup, it's definitely up there.
But… there are peatier and smokier scotches. Special editions where the distiller has gone all out.
How do you get smoke into a liquid?
Well, it's not really smoke (or peat), it's just what we associate with it. Peatyness is measurable, in phenols, a carbolic acid and aromatic organic compound that makes its way into the barley during the drying process.
It's measured in parts per million (ppm) and the higher ppm means you have more of these aromatic compounds, which means smokier and peatier. Also remember that the measurement is taken of the barley, not of the resulting whisky.
What is the smokiest, peatiest scotch whisky?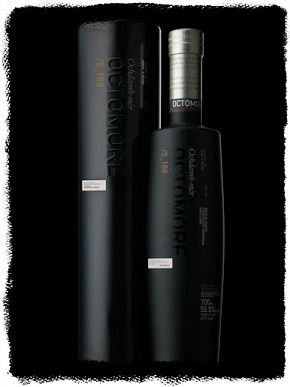 Fortunately, unlike many things in life, this has a quantitative answer – it's all in the ppm of phenols, which is measurable.
Who is king? Bruichladdich Octomore.
There are several versions of the Octomore but the latest, 5.1, boasts a whopping 169 ppm (6.2 is peated at 167 ppm) . In addition to smoke, it packs an alcoholic punch too, bottled at 59.5% and in one of the sexiest bottles I've ever seen. (something about an all black matte finish)
Bruichladdich is itself an Islay, which is home to some of the peatiest scotch in all the land, but it's regular lineup is unpeated. It's only the Port Charlotte and Octomore line that gets the peat.
Port Charlotte is "heavily peated" to 40 ppm, which puts it on par with some of their peaty island-mates.
Speaking of neighbors, how do some of the other peatiest Islays stack up? Octomore is waaaaay up there. Ardbeg told me, via email, that all expressions are peated to 55 ppm with two exceptions, Bladsa has a ppm of 8 and Supernova has a ppm of 100. I emailed Laphroaig and Lagavulin and will report back if they respond.
More to it than Phenols
Phenols aren't everything though… Other characteristics matter too. Some whiskies will taste peatier and smokier because of how they're matured.

For example, the tasting notes of the 5.1 talk of scents and flavors more often associated with Speysides – like cinnamon, grapefruit, tangerine, and honeyed lemon. It's paired with more traditional peaty flavors like peat smoked barley, sea salt, light iodine.

If you sip some Laphroaig, on the other hand, you won't get much, if any, citrus. It'll have a hint of sweetness but you'll mostly get medicinal, iodine, and smoke. It'll seem peatier and smokier because that's all you get, even if the phenol counts don't say so.

A violinist doesn't play any louder or softer in an orchestra, but he or she would sound louder when playing by themselves.

Smoke!