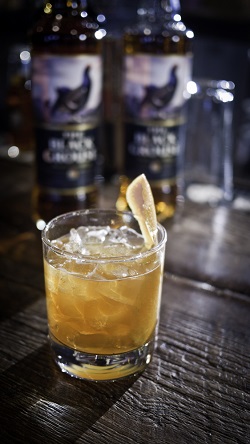 Most of the time I drink scotch, I do it neat. Very rarely do I add ice, but when I do it's often because it's a cocktail. I'm a sucker for a nice, balanced, fruit-inspired cocktail.
I discovered this one, called Presbyterian Revenge, and it looks delicious. I like the citrus of the lemon juice and grapefruit bitters, though I'm curious about Cynar. I'd never heard of Cynar before but it's an Italian bitter liqueur made from a bunch of herbs and plants, the most prominent is artichoke.
The recipe calls for Black Grouse, which I like enough to enjoy neat but makes for an affordable blended scotch to mix with, and the smokiness works.
Presbyterian Revenge
Created by John McCarthy of Bathtub Gin:
1.5 oz. The Black Grouse
.75 oz. Cynar
.25 oz. Lemon Juice
.25 oz. Simple Syrup
1 Dash Grapefruit Bitters
Directions: Shake and strain into a rocks glass with ice. Top with a splash of soda, garnish with a grapefruit twist.