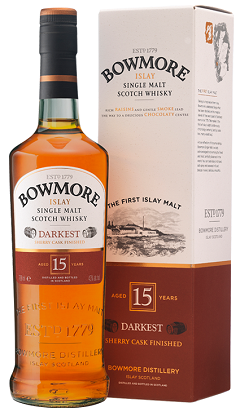 In my evolution as a Scotch aficionado, I discovered Bowmore far too late… but better late than never!
I believe my first introduction was a gift from my good friend Rick, whom you may remember from my post about scotches for a special occasion (he had the good fortune of filling his own Aberlour bottle), and he gifted me one of Bowmore's travel retail gems – Bowmore Enigma (no longer available, they've revamped their travel retail lineup for 2014).
With Bowmore Enigma I had my doubts – it had kind of a hokey name. Enigma. Ok, it's mysterious, ooooh big deal, your marketing won't fool me!
But the moment hit my lips I realized how much I appreciated sherry matured whiskies. It was sweet but not bourbon sugary sweet, it was a rich sweetness and that's something I found in Darkest, which is part of their regular lineup. Since then, I've been a huge fan of Bowmore.
Darkest is enjoyable if you aren't expecting the smoky punch of your typical Islay.
Darkest iss matured in a combo of bourbon and sherry casks but then finished in Oloroso sherry casks in its final 3 years. I'm a sucker for finishes like port and Oloroso sherry and as a result, I'm a sucker for this. I like the rich flavors the finishing passes on and given a choice between the smokiness of Islay, which I love, and the rich sweetness of a port finish, I'll go with a port finish (which is why a Laphroaig Cairdeas, which is an Islay finished in port, tops my list of favorites).
Tasting Notes
Color: Darkest. Ha just kidding, definitely a richer amber color similar to a Macallan 18 (I believe it has caramel coloring so take that for what it's worth).
Nose: Dark chocolate, dry fruit/raisin, very little smoke on the fringe, little cherry
Palate: Toffee and raisins all day long, a big pow from the alcohol though (it is 43% abv), hint of spice and raspberry
Finish: Chocolate (mmm!) and long, spice and a little kick
It's priced at $80 at my local store, which seems a little bit on the high side, but I did enjoy it because I'm a sucker for chocolate, dry fruit, and a reminder that it's an Islay.