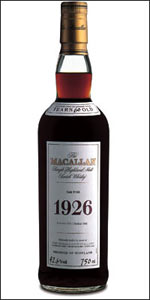 In mid-2006, Forbes listed the world's most expensive whiskies with the top bottle netting $38,000. That's right, a single bottle of the stuff at the top of the list costs more than most of the cars on the road today. Which was it? It was The Macallan Fine and Rare Collection, 1926, 60 Years Old… a single malt of the highest order took the top spot and it's not actually possible to buy it anymore.
Here's what Forbes had to say:
The oldest and most sought-after of Macallan's revolutionary Fine & Rare Collection is now sold out. It is still possible to taste this totally unique Scotch whisky at the Old Homestead Steakhouse in the Borgata Hotel Casino & Spa in Atlantic City, N.J. However, it sells for a nosebleed-inducing $3,300 per dram, so you had better have had a good run at the craps table.
To clarify, the list was created to capture the most expensive of each type, so you'll see clearly "inexpensive" Jack Daniels Single Barrel Whiskey listed because it's the most expensive Tennessee whiskey. Sazerac Rye 18 Year Old is the most expensive rye whiskey and Suntory Yamazaki 18 is the most expensive Japanese whiskey. Anyway, here's the rest of the list:
The Macallan Fine & Rare Collection, 1939, 40 Years Old: $10,125
Chivas Regal Royal Salute, 50 Year Old: $10,000
Glen Garioch, 1958, 46 Year Old: $2,600
Bruichladdich 40 Year Old: $2,500
Glenfiddich 40 Year Old: $2,500
Springbank 32 Year Old: $750
Auchentoshan 1973 32 Year Old: $700
Evan Williams 23 Year Old Bourbon: $350
Midleton Very Rare: $139
Suntory Yamazaki 18 Year Old Single Malt Whiskey: $110
Sazerac Rye 18 Year Old: $55
Johnny Walker Green Label: $50
Bernheim Original Kentucky Straight Wheat Whiskey: $50
Jack Daniels Single Barrel Whiskey: $42