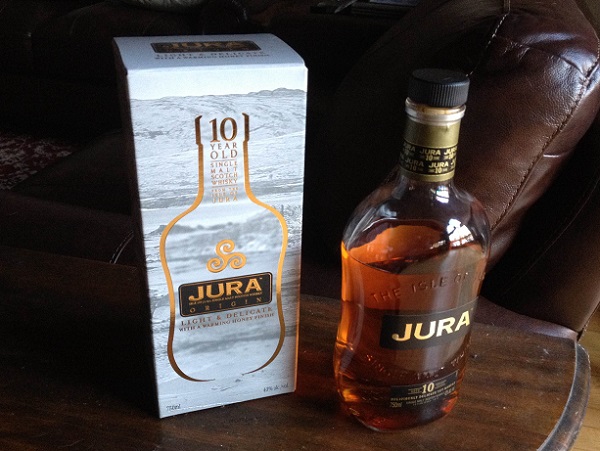 Jura!
Apparently there is a Swiss company named Jura and they make coffee machines.
Today, we're not talking about that Jura, we're talking about Jura Whisky on the isle of Jura. Specifically, the 10 Year Old Origin. (we've looked at Jura Superstitution and Jura Prophecy before if you're looking for tasting notes for those)
The 10YO Jura is called Origin because it is the whisky that "signifies the rebuilding… and rebirth of the Jura distillery." It wasn't the first Jura I experienced but it's certainly one that gives you a good sense of what Jura is all about. Bottled at 40% abv, Jura Origin is aged for 10 years in former Bourbon oak casks and has one several awards in recent memory. (the 10 did not capture any awards the SF World Spirits Competition but two others did)
Color: Amber
Nose: Malts, cereals, nice oakiness, it has a little caramel sweetness to it with vanilla
Palate: Nice body, fruity, vanilla and honeysuckle, some fudge
Finish: Medium and it dries out a bit with some spice (though not spicy)
In reading some other tasting notes, like at Master of Malt, they note peat but I couldn't find any. It could be that my palate isn't refined enough to notice or it's so subtle that I can't get it, either way don't get into it expecting an Islay – it's not (even though they're close neighbors).
For the price, around $43 locally, it's a relatively good value for an entry level Scotch that has personality, albeit not a very strong one.