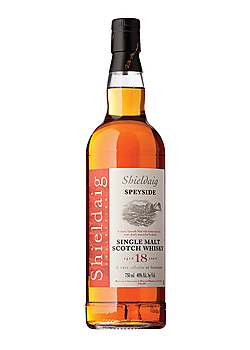 My local big liquor store was recently acquired by Total Wine and Spirits, it was formerly known as Corridor Wine and Spirits, and I saw in a recent circular that they were selling an 750ml 18-year old Speyside scotch for only $40. Any fan of single malts will know that an 18 year old will, almost at a minimum, be double that in price. That price point is more typical of 12-year old single malts and so I was intrigued.
To be perfectly accurate, I was actually skeptical.
Where is Shieldaig?
The bottle said that it was a Speyside and there is a village named Shieldaig located in the Northwest Highlands, which is not anywhere near Spey, so that made me even more skeptical.
It turns out that the Shieldaig on the bottle does not refer to a distillery, it refer to a bottler. Shieldaig, owned by William Maxwell & Co. Ltd (now known as Ian Macleod Distillers I think), buys over-production from other distilleries and labels it as their own (well, more accurately they label it as a Speyside, like in this case, but never claim to be a distillery). They have numerous "lines" to cover different geographic areas, such as Speyside and Highland, as well as blends, such as "the Classic."
They also have the same bottles without an age statement, which are even cheaper. For example, they offer a Shieldaig Speyside w/o age for only $18 per 750ml.
So when you buy a Shieldaig, you're not buying a product made in a distillery named Shieldaig. You're buying one from a bottler that sourced it from somewhere else – in this case it's a Speyside distiller. By definition, it's technically a mystery malt.
Shieldaig Awards
I did a little research online and it seems that the reviews of Shieldaig were mixed. I wanted to get a better idea before buying ($40 on a terrible 18 year old is still $40 wasted!) and some of the reviews were less than flattering.
The Total Wine websites says it won a Gold Medal at the San Francisco World Spirits Competition (which is one behind double-gold) and I was able to confirm it in the results – both the 12 year old Speyside and the 18 year old Speyside won golds. The no-age-statement Speyside for Shieldaig won double gold.
I'm not one to put too much stock in awards but the fact that it scored a gold makes me believe that the scotch won't be terrible. At a minimum, it has to be decent and $40 for a decent 18-year Speyside puts it in the category of I should try it out.
Tasting Notes
Color: A light amber
Nose: Slight sweetness and woodiness but nothing stands out.
Taste: A little sweet, some oakiness, but again, nothing really stands out.
Finish: Long and there's a flavor I can't place.
When you buy a bottle for $40 and your expectations are relatively low, it's hard to be disappointed (and I wasn't). It's a decent bottle and for $40 I am not disappointed, though I don't know if I would buy it again. It lacked any sort of distinction for me. It wasn't fruity, it wasn't floral, it was just… there. It was a whisky. If you forced me to pick a place it came from, sure I might say Speyside because maybe there's a hint of sweetness and fruit? It's certainly not an Islay thought it could easily be a Lowland.
It didn't remind me of any other scotch I've ever enjoyed but Speyside has so many small distilleries that you'd almost never know. Heck, these might even be from a distillery that closed and is just looking to sell off their stock.
The one thing that I didn't like all that much about it was the finish. It was long, like the friend of a friend who stays at your house after everyone else has left. You aren't sure how he got there, who he knew, and he's not a bad guy it's just that it's time to go. The guy in the earlier review, Kevin, said it was like two hour old bubble gum – I've never chewed gum that long but I can see what he means.
Conclusion
As luck would have it, I had a piece of chocolate later on the in the night and it paired well with the whisky. The long finish just accentuated the sweety bitterness of the chocolate. I wouldn't go as far as to say you should go out and buy Shieldaig to pair with chocolate, I did find a nice use for the long finish!
My recommendation is that if you're looking for a single malt that doesn't really stand out in any particular facet (other than a long finish) but is very affordable, this isn't a bad choice at $40 a bottle for an 18 year old. Personally, I want some distinction so I probably won't be getting another one of these.