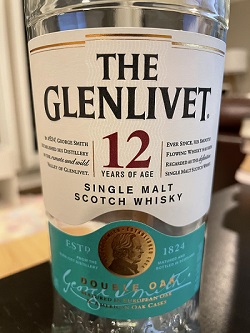 I've long been a fan of The Glenlivet ever since I first started enjoying whisky. There's something about the approachability of Glenlivet, from a cost and flavor perspective, that really invites you to join in.
I still remember the first time I had the regular expression of Glenlivet 12 (back in the day, before they added the Double Oak to the label) because of the spicy bite on the finish. I thought it was the alcohol (part of it was) but a lot of it was just its personality coming through. It was fun to revisit it in its new(ish) form.
The Glenlivet 12 Double Oak is now the regular expression of the 12 year old – it's matured in European and American Oak casks. It's all the same familiar flavors, scents, and finishes from what you expect from the 12 year old.
The color is a rich gold color with a nose of tropical fruits – very fresh and airy. It doesn't feel heavy on the nose. On the tongue you get much of the same, stone fruit, with the vanilla I've come to identify with Glenlivet 12. The finish has a bit of a body to it, the nuts you associated with winter desserts like hazelnut.
I didn't get any bite at the end and I'm not sure if it's because my palate has "evolved" a bit as I've aged or if it has been intentionally muted.
You can usually find a bottle of this in the $70 range and it's one that I think anyone can enjoy. If you have a friend who is just getting into whisky, this is a nice standard one to welcome them with.