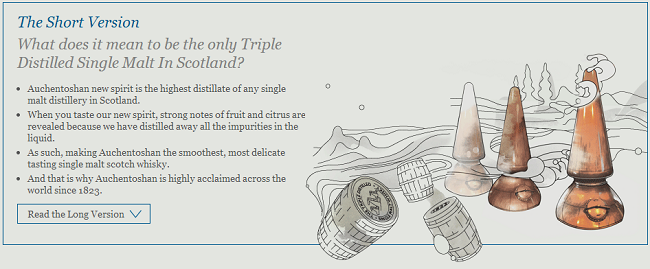 Auchentoshan bills itself (the Long Version explanation is absolutely fascinating) as the only triple distilled single malt scotch. It's one of those phrases that gets used in marketing and I never really knew what impact it had on whisky.
The bigger question is… does it matter? That is debatable.
Let's first talk about what triple distillation is and what it might mean, then follow that up with a look at whether or not it makes for a better whisky.
What is triple distilled?
If we remember back to the steps in making whisky, we know that distillation is the step that happens after fermantation but before maturation in the barrel. What you're getting out of the distillation process is mostly alcohol, often called new make whisky. It's clear, mostly alcohol, and most Scotch whisky is only distilled twice. (interestingly enough, most Irish pot still whiskey is distilled three times)
Every time you distill, you increase the alcohol by volume because you are taking the products of one still and putting it into a second one. For the exactly process, Whisky Science has a great writeup of triple distillation as well as some history.
Is it better?
The more you distill, the more heavy components are left behind. So it's believed that triple distilled whiskies are "lighter" because that third distillation removes more of the heavier components. The heavier components are like oils and proteins which contribute to body, mouthfeel, while the lighter ones are like esters that contribute to the aroma and scent.
Finally, maybe there's a reason Auchentoshan is one of the only single malts that uses triple distillation. Maybe it doesn't matter enough for the others to do it. While it makes for a fine distinction, it's a differentiator, but I doubt you'd say they make the absolute "best whisky in the world."
In the 2013 SF Spirits Competition, Auchentoshan Three Wood Single Malt Scotch won a Double Gold while their classic won a silver. So they win awards but they hardly run the table.
There's also the issue of cost and time versus quality. You can't argue that distilling a third time takes more time and has to cost more, there's no getting around it. If it made for a better whisky, you might see premium brands doing it and touting it on their branding… but they don't.
That said, triple distilled isn't bad either. Just another wrinkle to add to an already complex spirit… which makes it all the more fun!