Last year, I tried a bottle of scotch that I'd never heard of before — Usquaebach.
For us non-native speakers of Gaelic, the word looks like a lot of other scotch whisky names. But it's a variant of uisge beatha, the Gaelic words meaning "water of life." The name Usquaebach was commemorated by Robert Burns in a poem, titled Tam O'Shanter (he uses the line "Wi' usquabae, we'll face the devil!" – with the water of life, we face the devil!).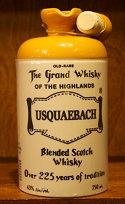 With that name origin in mind, what is Usquaebach? It's is a blended scotch whisky and the product is over 225 years old. To prove it, they still sell some of it in an old timey flagon. And for those who are audibly curious, it's pronounced "oos-ke-bah," which I probably would've gotten on the sixtieth try!
43% abv, the bottle I tried (sent by their PR company) didn't come in flagon but a regular bottle. Shucks. 🙂
Tasting Notes:
Nose: A younger blend with bits of honey, sugar, and citrus. Not much oak on the nose and some spice, like the soft warmth of ginger and some vanilla. It has a little bit of everything except iodine and smokiness but not a lot of anything.
Palate: Toasted malt with a sweetness and vanilla. A little pepper spice to it. Light in the mouth, not much heft to it.
Finish: Medium with light caramel, chocolatey finish and a bit of pop with the pepper.
It was a tasty whisky and they state it has a blend of 10-18 year old whiskies, which I believe. At a price of $43, I wouldn't rush out and get some (the value proposition isn't there) but it's a nice middle of the road (nose/palate-wise) that doesn't disappoint.