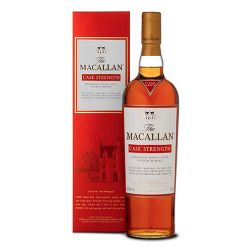 When I first started enjoying scotch, I was like every novice, I thought that more was better. The older the bottling, the better the scotch, right? The higher the alcohol by volume, the better the scotch, right? But like many things, older doesn't mean better and neither does more.
When whisky is made, it's stored in casks, or barrels, for many years. This new make whisky, as it's called, can have an alcohol content anywhere from 60%-75%, depending on distillation. It's potent stuff. As it matures, it loses some of its potency, known as the angel's share. When it's removed, depending on how old it is, it can still have a fairly high percentage of alcohol.
Normally distilled water is added to normalize the alcohol content to the standard bottling levels, however sometimes they normalize it at a might higher alcohol content for cask strength bottlings. For example, The Macallan Cask Strength, which has no age statement, has an alcohol by volume of 58.5%.
Is cask strength better? That's debatable. At 58.5%, the burn of alcohol overpowers many of the subtle flavors in scotch. However, some people like the idea that you can get a taste of what it's like straight out of the barrel, before water is added to bring it down to more pedestrian alcohol by volume levels. You can adjust it to your liking, instead of accepting the more standard levels of 43% or 40%.
I think it's worth a try but unless you like your nose hairs singed off, I'd avoid getting a whole bottle.