My good friend and yours, Gary, has come through again with another wonderful set of photos from yet another duty free store – this time it's the Munich Airport located to the north east of Munich, Germany. This is the second busiest airport in Germany behind Frankfurt Airport and handled nearly forty million passengers in 2013, according to Wikipedia.
It's the duty free store in Terminal 2 by H gates 19-28 and it is HUGE with a very extensive selection of Scotch, as you'll see in a moment..
Pretty much anything you could want, you can find in the Munich Duty Free!
Dalmore, Glenmorangie, Jura, & More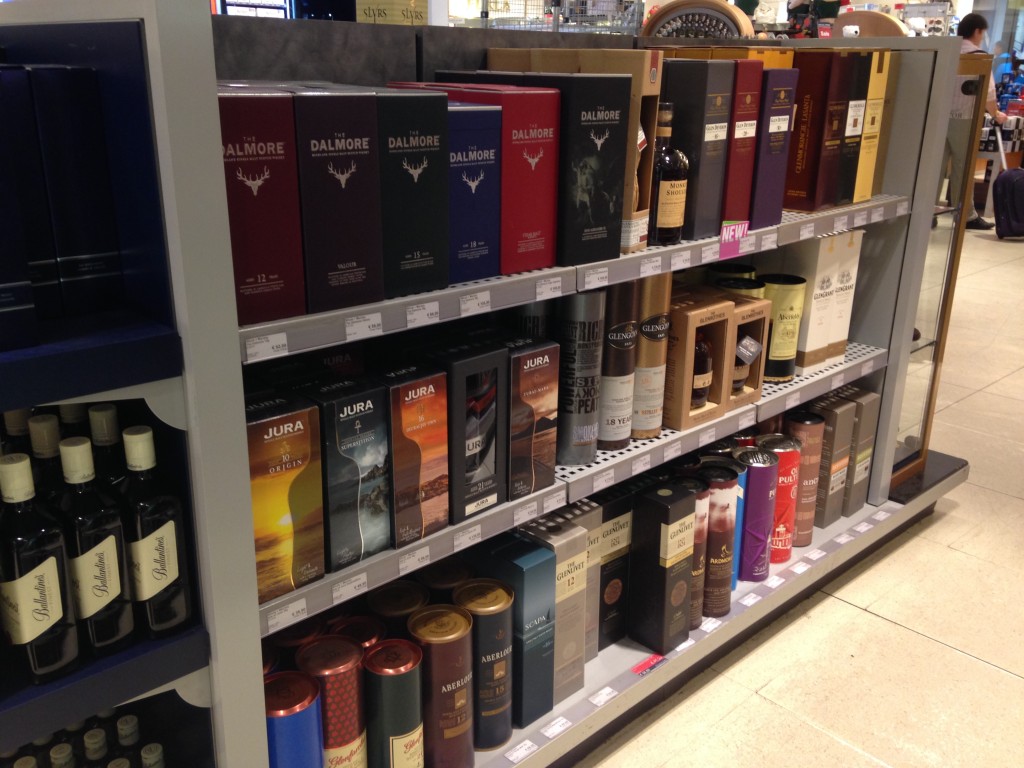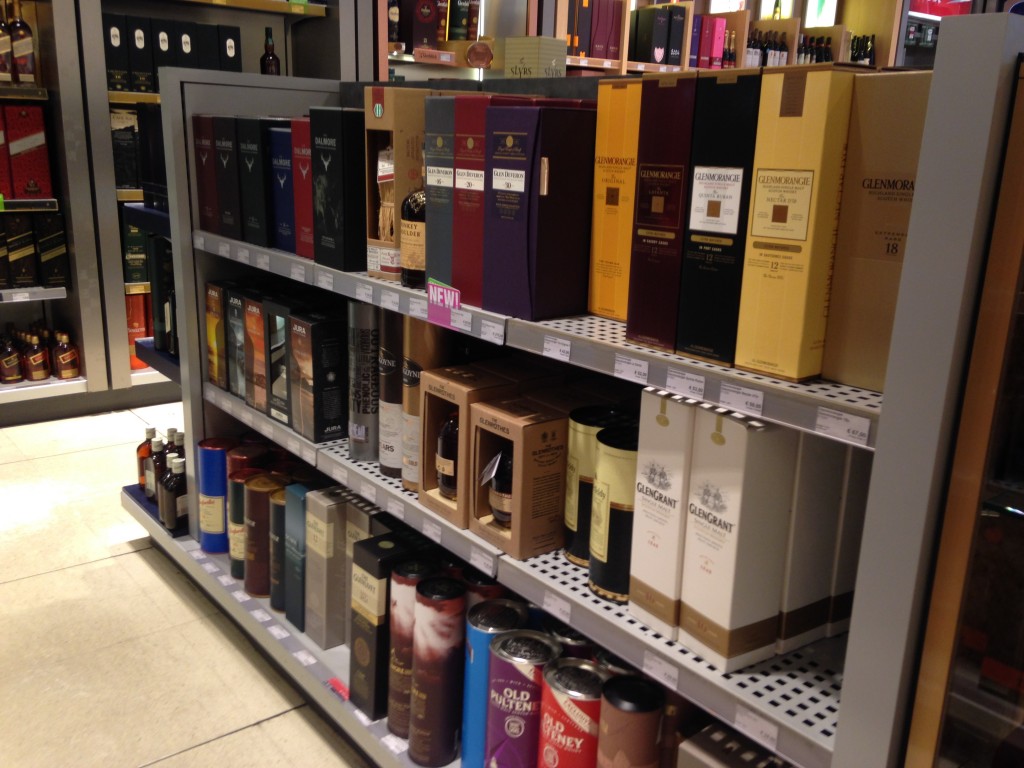 Top row: Dalmore 12yo, Valour, 15yo, 18yo, Cigar Malt,Monkey Shoulder, Glen Deveron 16,20,30; Glenmorangie Original, Lasanta, Quinta Ruban, Nectar D'or, 18yo
2nd row: Jura 10yo origin,Superstition,Diurachs own,21yo, Turas mara; Smokey peat, Glengoyne 18yo, distillers gold, Glenrothes, Aberfeldy, Glen Grant 16yo
3rd row: Glenfarclas, Aberlour 12 and 15, Scapa 16yo, Glenlivet 12, Ardmore, Old Pulteney Lighthouse series, Ancnoc, auchtenshan
Glenfiddich, Balvenie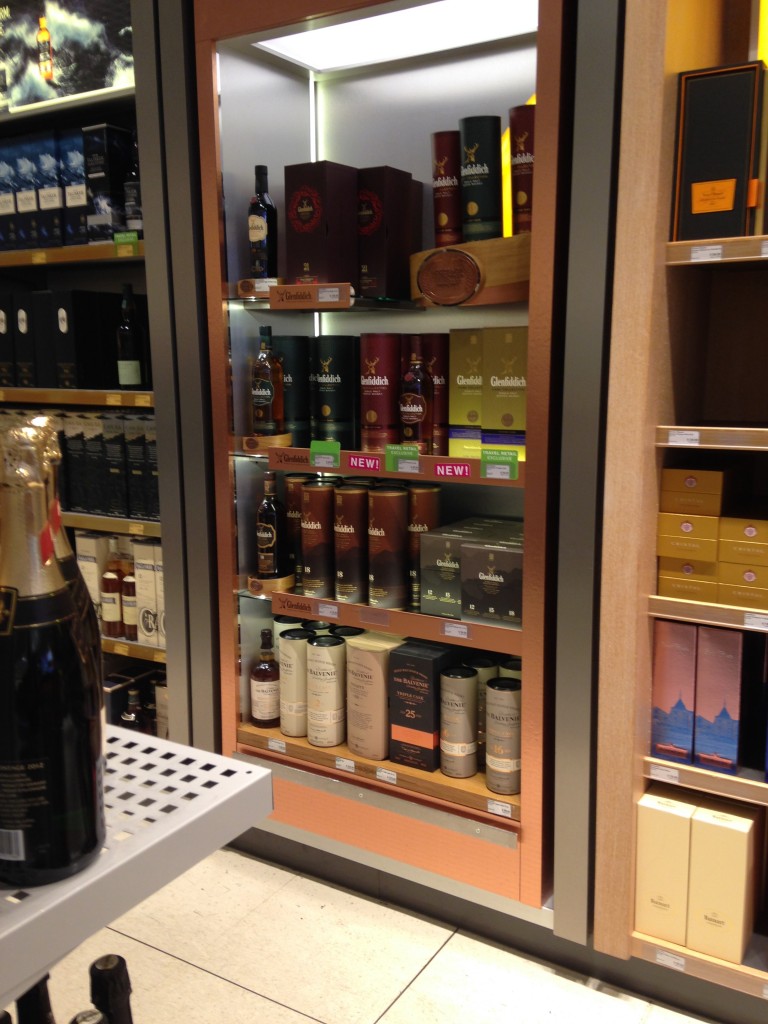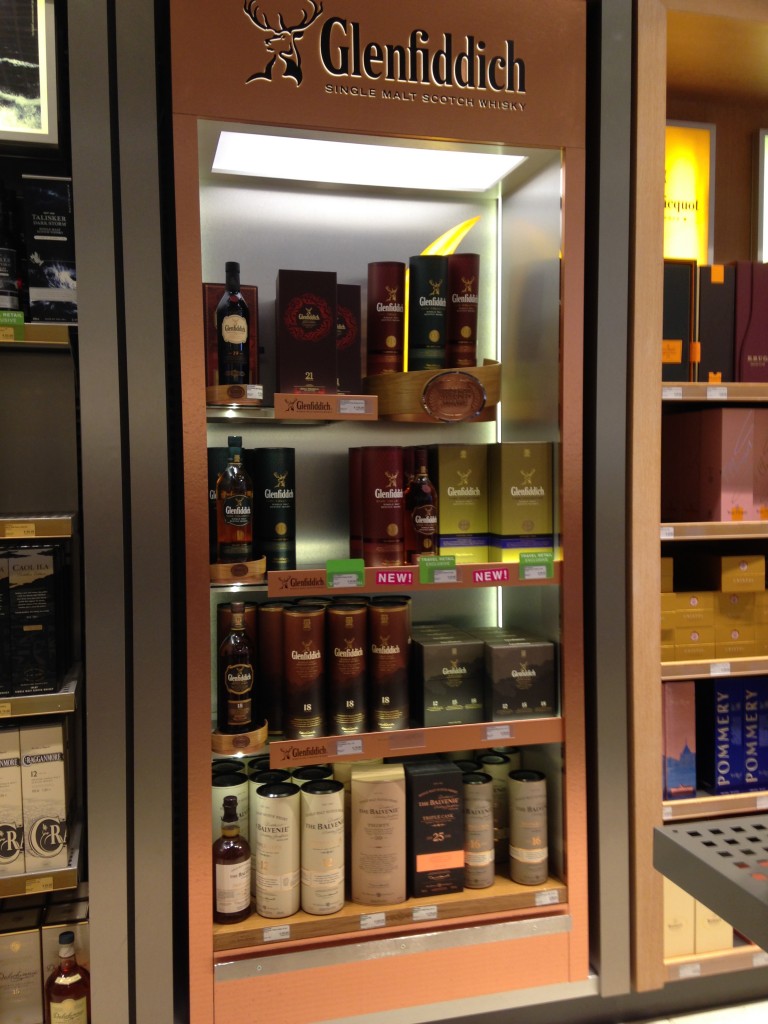 Top row: Glenfiddich 19 yo Age of Discovery, 21 year old grand reserve
2nd row: New travel exclusives, the gold has quite a bit of peat for glenfiddich
3rd row: 18 yo and the 3 pack of minis
4th row: Balvenie 12yo triple cask, 30yo, 25yo, 16yo triple cask
Grouse, Blends & Islays, Oh My!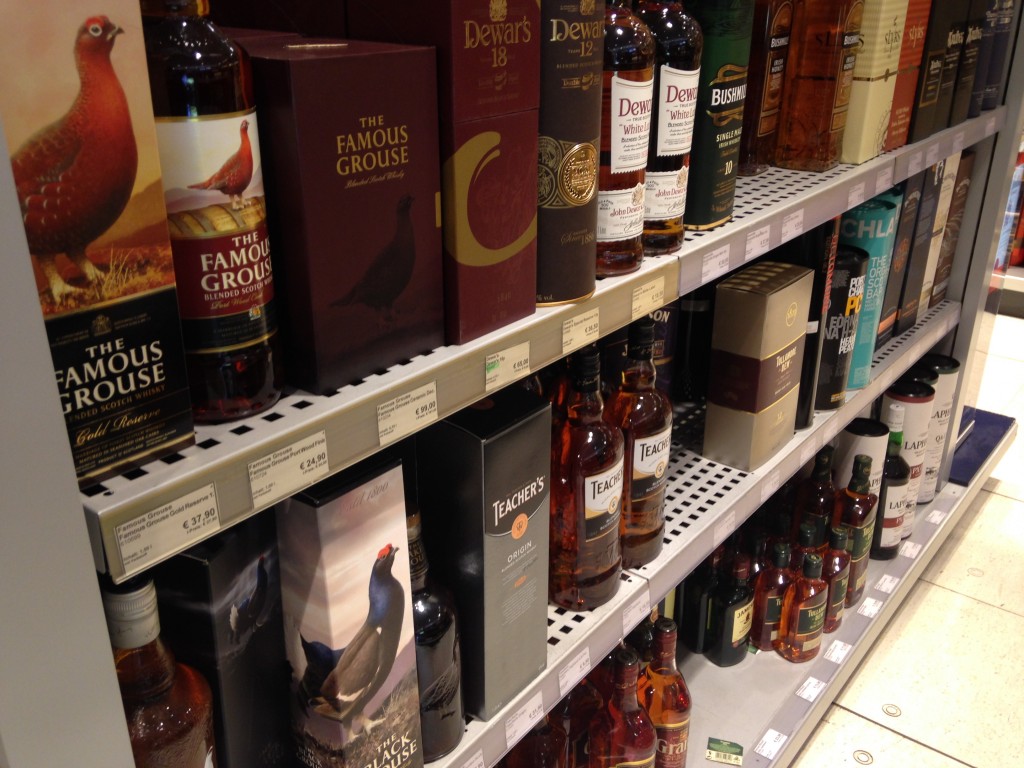 Top row: Famous Grouse gold reserve, famous grouse, Dewars 12yo, standard dewars,Bushmill 10yo,Black bush Bushmill Honey, Slyrs, Ardbeg ooigie, Ardbeg 10yo,Bunnahabhain
2nd row:Snow Grouse, Black Grouse, Teachers, Tullamore Dew, Octomore,Port Charlotte PC11, Bruchladdich, Bowmore Blackrock Goldreef, white sands
Bottom row: Grants, Jameson, Tullamore Dew,Laphroaig cuan, Laphroig PX and QA
Johnnie Walker & Macallan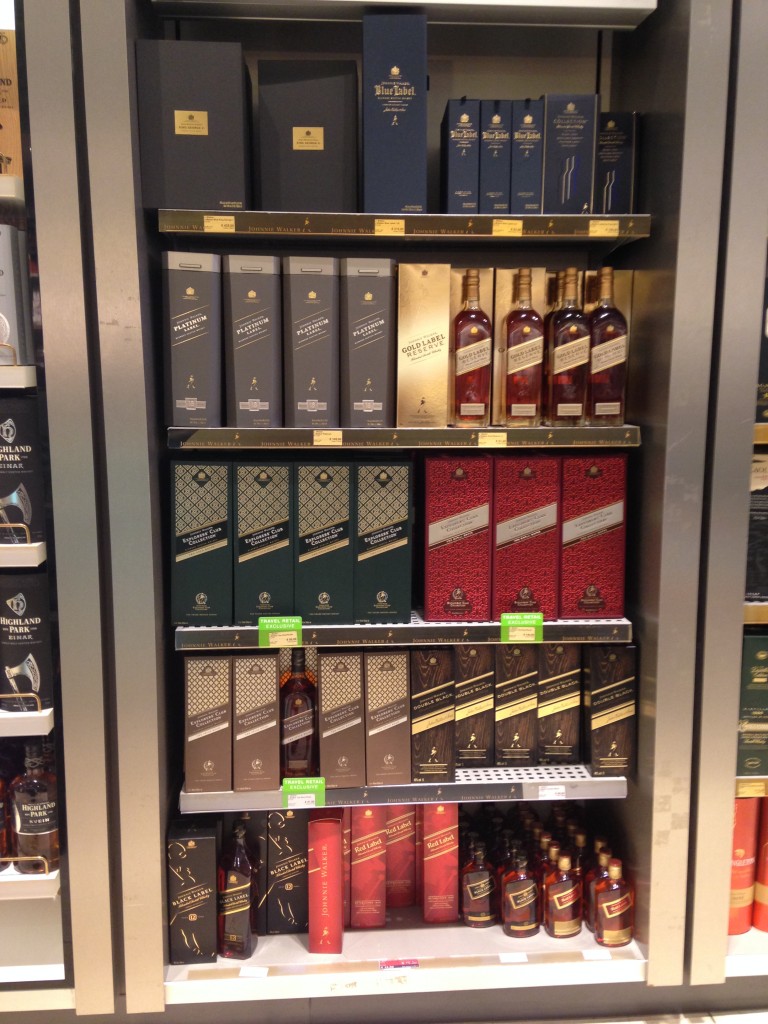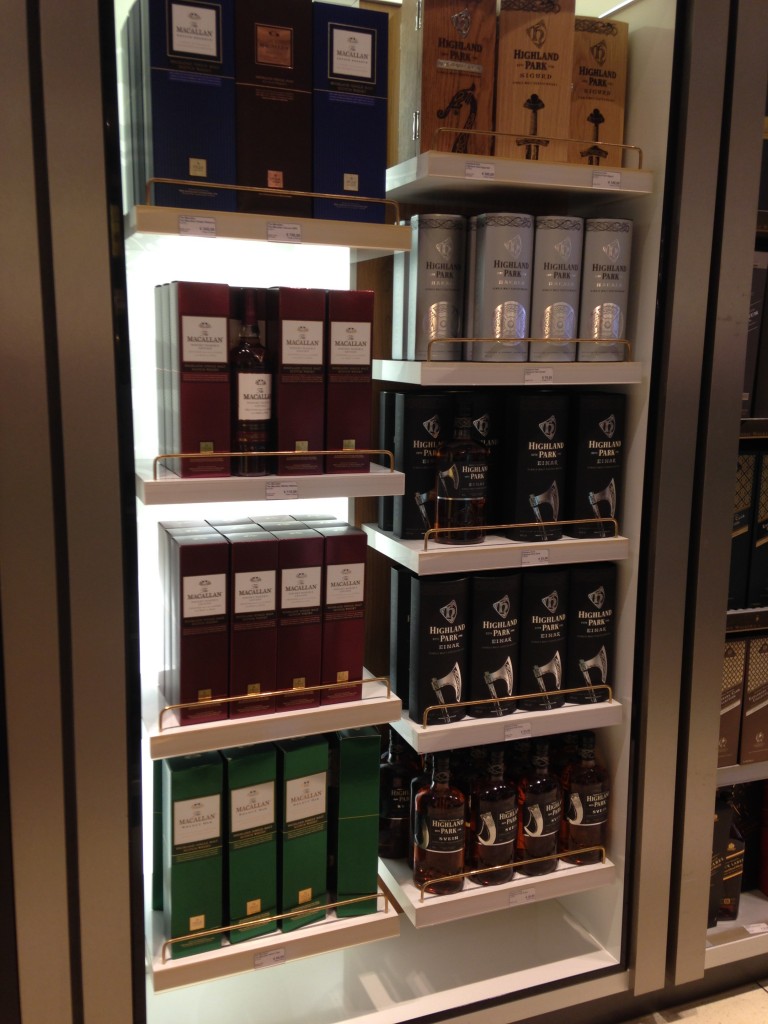 Left side: Macallans 1824 series, whiskey makers edition, select oak
Right side:HP Svein, Einar, harald, sigurd, dragon?
Thanks Gary!