Do you ever buy a bottle of something, have one dram, and realize you absolutely hate it? It's happened to me before. Twice.
To be fair, the price was worth taking a flyer on it. $30 for 750ml of 18 year old? Sure, why not.
Here's the thing — I didn't buy them because they were interesting. I bought them because they had high age statements and were strangely inexpensive relative to other whiskies aged that long. You get what you pay for. 🙂
I think part of the fun of whisky is the discovery process. I've long wanted to try more Japanese whiskies, especially since they've been collecting all the awards, but the price of a single bottle is too high to try something I might not like.
What if I spend $90 on a 750ml bottle of Yamazaki 12yo and discover I hate it? That's a lot to spend to "try it out."
Here's where a whisky club might make sense and one that I recently learned about is called Flaviar. Flaviar sends you small samplings and private bottlings from a variety of craft and premium distilleries, giving you the opportunity to try small samples without committing to 750ml of something you don't want to finish. That's what they pride themselves in.
Flaviar sent me a box to help me understand what the service would be like – I opted for the Asia and Oceania Whisky package because if I was going to try something, it'll be stuff that's hard for me to find. I don't need small samples of stuff I know. 🙂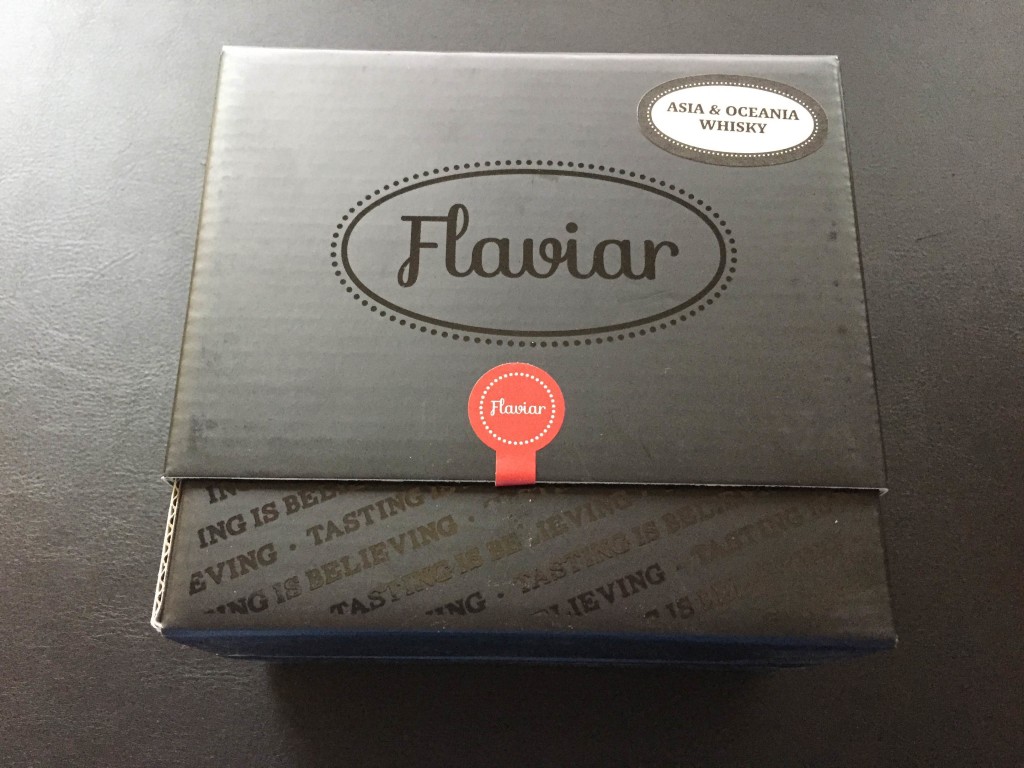 Nice cardboard box with the package clearly labelled, and the inside consists of the samples a little introductory card about Flaviar, plus two pamphlets.
The two pamphlets are great – one discusses how to host a tasting (they recommend one pack per three people! might not be enough!) and the other talks about each of the whiskies in the package. The tasting guide explains how you should approach tasting whisky, what aspects of the production process contribute to which flavors, etc.
The guide to the whiskies is really fun. The five samples included in this kit were:
Kavalan – This is the one I wanted to try, Kavalan is produced in Taiwan; it's where my parents emigrated from to the United States.
Milford 10yo – New Zealander done in the Lawland style, another one I'd never heard of and wanted to try.
Paul John Brilliance – Indian whisky that is made with Indian barley, matured in bourbon barrels and is unpeated… most Indian whiskies are usually molasses based, this one isn't.
Lark – Rum Cask Finish – They are located in Tasmania!
Togouchi Blended – A Japanese blended whisky
Here's a closeup of the five I received:

Flaviar bills itself as "a club for explorers at heart," and I think this the only way a whisky club "works." It needs to be more about discovery and trying new things and less about getting a good deal.
If you look at Caskers Whiskey Explorer club, it starts at $159.99 quarterly and gets you three full-size bottles a quarter (so a bottle a month). Is there a theme? Not that I can tell. You pay $53.33 per bottle, which can get you a fantastic bourbon or a decent scotch. It's hard to know and with no theme, even harder to justify getting it. I'd rather just buy the bottles myself as I go.
Flaviar isn't cheap though. If you try to buy their Asia & Oceania Whisky kit a la carte now (it was the kit from October 2015), it's three samples (Lark Rum Cask, Milford 10yo, and Paul John Brilliance) for $42.
The membership itself is $60 per quarter and you get one package a quarter.
The most recent one (March 2016) is called The Canadian Lot and features McGuinness Old Canada Whisky, WhistlePig Straight Rye 10yo, and Crown Royal XR. Is that worth $60? I can't find McGuinness anywhere here, WhistlePig is a $75 bottle (so the 45ml is "worth" $4.50), and the crown is an $87 bottle (45ml = $5.22). Strictly on value, it's not. But as a premium for discovery, that's up to you to decide…
The tricky part here is that you really need to bring obscure whiskies in each package for it to work. I look at The Canadian Lot and I only see one unfamiliar name – McGuinness. I was far more intrigued by the Asia & Oceania Whisky box – some Australian whiskies, an Indian whiskey, and one from Taiwan I always wanted to try? Bring it on!
There are some other perks to membership which are non-obvious and… depending on how they develop, might be really interesting. Flaviar, like many places, also sells harder to find bottles and membership also gives you 3 free package shippings a quarter. This could be a good deal if they get bottles you like. For example, one deal they have now is Kilchoman Machir Bay, a release from 2014 that is about $10 cheaper than anywhere else that has it. That's a nice benefit but it's hard to know how useful that would be on an ongoing basis.
They also have private bottlings under their Deer, Bear & Moose label. The first one was a 20yo single malt from Tobermory and the second is a Ben Nevis 18yo. They go for about $125. Here's a photo of their first and second private bottlings.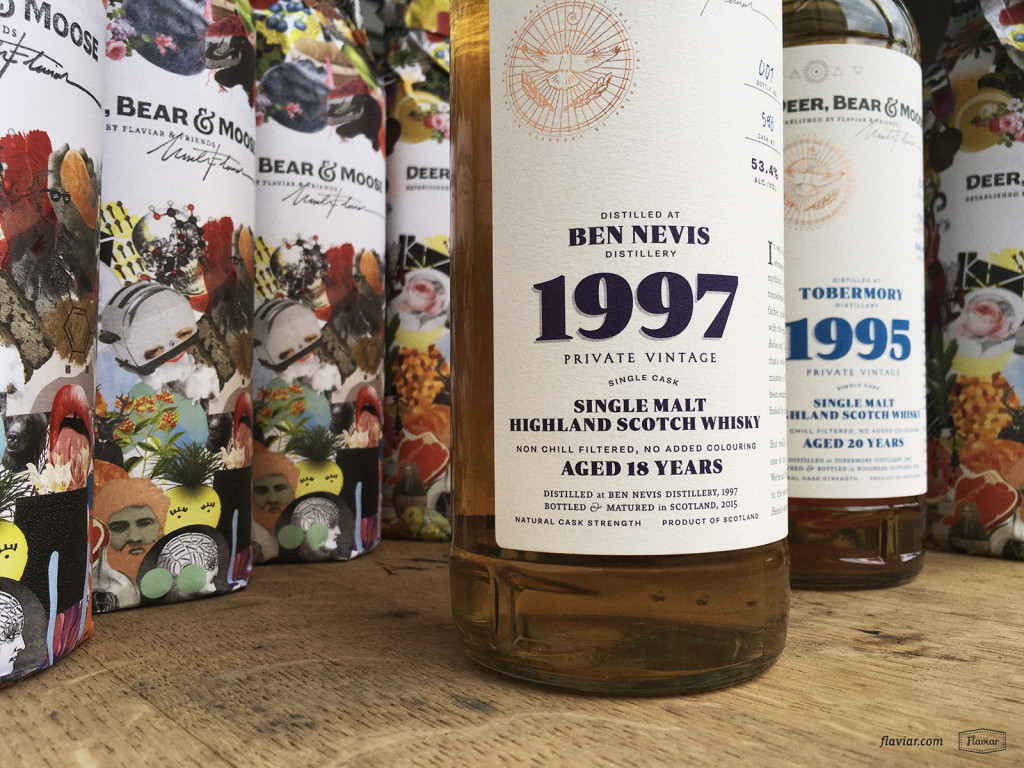 THIS would be interesting… since members get first crack at it. But is it interesting enough to join?
What's your take on whisky of the month clubs?