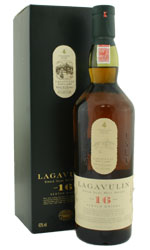 Lagavulin 16 is another scotch I've had on many an occasion but I never really sat down to sip it with the intent of breaking it down and pulling out the flavors. Lagavulin is rated a 95 in Michael Jackson's Complete Guide to Single Malt Scotch, pretty high praise when you consider most of the scotches listed don't even crack 90, let alone hit 95. In fact, in my brief flipping through the book, I've only seen a couple 96 and they're all extremely limited vintage Macallans ("1841" and The Macallan 1948). In fact, the 95 puts it on par with the Macallan 25 and Macallan 30, but at a fraction of the price. All I know is that I enjoy Lagavulin for its smoky peat and it's rich textures.
Jackson's guide says that the palate is a peaty dryness like gunpowder tea (never had it, must try now). As the palate develops, oily, grassy, and, in particular, salty notes emerge. I can't tell whether it's oily and I also can't get a sense of the salt, but the grassy is certainly there. It has a hint of what a freshly mowed lawn smells like, the sharpness of that flavor is in there. The finish is cutely described as a bear hug.
One tip I read online in helping get a better sniff is to cover the top of the glass for a few seconds. This lets the aromatics accumulate in the glass so you can get a better smell of it. I find this helps since as a child I had my note cauterized (because of nose bleeds) and I think this may have had an effect on my olfactory sense. It definitely stings when I take a deep breath, it is 43% alcohol (a little higher than the standard/required 40%), but I can't get the sea spray sense that is often called out.
Either way, it's tasty. 🙂