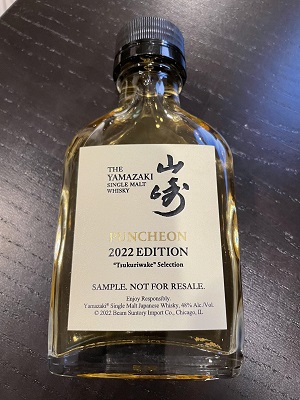 Yamazaki is one of my favorite distilleries and, judging by the different variety of bottlings, their branching out is a sign that it's a favorite of many another scotch addict. The Yamazaki Puncheon 2022 Edition is part of the Tsukuriwake Selection, which is a limited edition line up of four whiskies:
– Puncheon
– Peated Malt
– Spanish Oak, and,
– Mizunara
The term "puncheon" is an old term for a barrel with 480 liters of liquid, which is approximately twice the size of a typical wine barrel. I've been to wineries that still age their wine in massive barrels (I've seen tuns before, and they're enormous!) and some of them are huge. A puncheon is about a third of a tun.
The Yamazaki Puncheon is matured in American oak puncheons and has a really light gold color. Not grassy yellow, it definitely has the gold hue. Very light in color but not in flavor.
The nose has a hint of the tartness of a granny smith apple with some sweet vanilla.
On the palate, you get a very distinct butterscotch note along with more vanilla and soft sweetness of honey.
The finish is long with the vanilla really lingering with the heat of the alcohol. It certainly has the body of 48% abv but it's not so much that it overpowers the subtle flavors.
I found the dram to be absolutely delicious. And I was sent this sample from a PR firm so I knew I did not have enough of it. I was surprised, but also not surprised, at the price tag. I found it on some secondary sellers for around $4,000.
Is it worth $4,000? I don't know. It's way out of my budget but I do know that it's a pretty amazing dram.