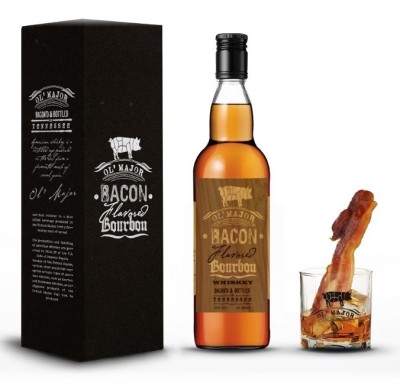 My first thought, before I even saw the bottle, was that this was gimmicky. It's the whole "oh bacon is awesome, great with everything, blah blah."
Don't get me wrong, I enjoy bacon. I don't go crazy when I smell it but my wood of choice when smoking anything (ribs, chicken, brisket) is usually hickory… because, well, it's fantastic.
So when a company emailed me about a "bacon infused bourbon" my first thought was — GIMMICK. But, I was intrigued. I'd never buy this if I saw it in a store. But, if I saw a little airplane sized bottle, I would get it just to try it.
So I receive the bottle and take a look. It's nicely done, with a screw top and a woody label, and I crack it open. I sneak a sniff of the bottle and I'm surprised because it's not in-your-face BACON. It's the sweetness of the hickory with that richness you get when you chew on the meaty part of bacon. I get sweet rich porky flavor, a shade of that, that's what really comes out when I give it a good sniff.
I pour myself a dram and sniff it from a Glencairn. Right before I get into it, I think that this might not be meant to be enjoyed neat. It's only 35% abv and the bacon flavors makes me think it's like a liqueur. Or something that needs to be put into a drink, like those stories of bacon infused bourbons making fantastic cocktails.
After writing this, I just realized I was at a bar someplace (one of those fancy cocktail places where the bartenders are all in suits with vests) when I had a drink that had a slice of bacon in it! I'm pretty sure it a Bacon Manhattan and it was absolutely delicious. The bacon wasn't super strong in the drink itself but having the hard slice of bacon to chew on really sold it as a delicious cocktail.
But before I get the thought fully through my head, I take a whiff. I get the smokiness of hickory smoke, not the iodiny medicinal islay smoke, and it's unmistakably bacon. As for the look, it's a little cloudy. I take a sip… and it's way too sweet. Almost "yuck" level sweet. It's almost so sweet that the bacon doesn't come through.
My thoughts go back to it being used in a cocktail and I go online to look them up. It might not surprised you know that there are about a million different cocktails that are made with bacon infused bourbon – which is exactly what this is!
Most "bacon-infused bourbon" recipes are pretty simple… take a 750ml bottle of bourbon, pour out a quarter cup, and then pour in a quarter cup of bacon grease. Mix and wait a week. Put in freezer, strain out the fat. Boom – bacon infused bourbon. I'm not sure how Ol' Major Smokey Bacon Bourbon is made but I doubt it's as crude as that recipe! (the recipe actually sounds awful)
I didn't want to go the traditional route of a tasting note since I wasn't enjoying this neat, but I will tell you that here's a recipe I tried and it turned out pretty good. I went with my brother-in-law's Old Fashioned recipe (it helps that I had everything on hand) and used the bacon bourbon instead of the rye whiskey.
It was pretty good! The bacon flavor wasn't overpowering, there was a subtle richness to it that isn't usually there. I think the orange peel and the bitters help balance it out. Next time I try this I want to fry up a piece of bacon and stick it in, just to see if it helps.
I like the idea. I like the idea of this more than I like the idea of pouring grease into a bottle of bourbon… and my cocktail experiment turned out pretty good!