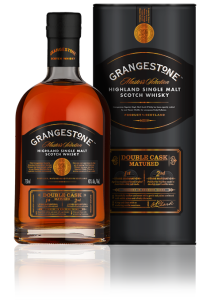 I'm walking through Total Wine (and More, though I don't know anyone who says that part!), a cart full of beer and wine, when I see a random display of scotch in the middle of the aisle. Our cart is jammed because we're having a birthday party this weekend (it's for a four year old but kids have parents and parents need survival supplies too!) but it had room for another bottle.
There's always room for another bottle.
Grangestone. Bourbon finish. $25.
Eh, why not? I knew that Grangestone wasn't a private label by Total Wine, unlike Shieldaig, so I thought I'd give it a try. It did, after all, win a gold medal at the 2015 San Francisco World Spirits Competition.
This NAS whisky is 40% abv and it is first matured in traditional American oak, followed by a finish in first fill bourbon casks.
Tasting Notes:
Nose: Vanilla, floral, hint of raisin and toffee
Taste: Smooth, again the floral and a little spice, not much sweetness.
Finish: Goes pretty quickly, not memorable.
It's OK, not my favorite and I wouldn't get it again. I don't dislike it, it's just young, tastes young, feels young, and that might be my excuse to leave it in my case for a while (yes yes, I know it won't do anything).
A quick search online found a two year old post on Reddit where someone sleuth that it might be Kininvie. Kininvie is one of the three (the others being Glenfiddich and Balvenie) that go into Monkey Shoulder.
Personally, I'd spend more and go with Monkey Shoulder. And throw those stupid spirits competition awards out the window… Shieldaig won a Gold too and I found that to be on the other side of bad. Grangestone Bourbon Cask is not bad, just not great and likely worth the $25 price tag… if I didn't have a blend I like better in that range.