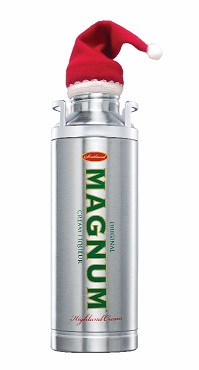 It's been a very mild winter here in Maryland this year and it's a shame because one of my favorite adult beverages after a morning of shoveling snow is some Baileys Irish Cream in my coffee.
It's a good combination because my wife's favorite beverage is some Baileys Irish Cream in a glass with a couple of small ice cubes!
One of the things we've learned is that not all cream liqueurs are the same. We were at a store that didn't have Baileys so we picked up a random irish cream liqueur and it tasted terrible. Whatever whisky that brand used was so harsh it wasn't balanced by the cream.
So when I heard that there was a cream liqueur made not from Irish whiskey but from Scotch – boy did I perk up!
It's called Magnum Cream Liqueur and it's Dutch cream with whiskey from BenRiach, a Speyside distillery owned by Brown-Forman. Much like its more famous cream cousin, it's 17% alcohol by volume.
I'm not going to give it the treatment I typically do for a whisky tasting note but I am going to say that when I enjoyed it with ice, it tasted decadent in its caramel and chocolatey richness. It was fruitier than Baileys, when I tried them side by side, and I felt like the whisky part shined brighter than in Baileys.
I also have to mention the bottle – it's stainless steel, has these slick handles, and chills very very quickly. It's also shaped as to not take up a massive amount of refrigerator space since it's a cylindrical and not your typical fat bottom bottle.
Here's a quick video about it:

If you're a fan of cream liqueur, give it a look.