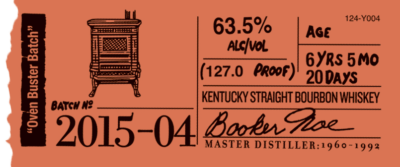 The first time I sipped Booker's I had no idea what I was in for.
My wife bought it for me as a gift. It came in this nice wooden box, the bottle looked cool, and the sauce inside looked rich and delicious.
I was not prepared for 127 proof bourbon! (cask strength baby) The best part is that I didn't know until the next day after I overindulged, not even realizing it packed a little bit (OK, a lot) more punch than your average whisky in the 80-86 proof range.
When I sipped it, I knew it was strong. But bourbon is already sweeter than scotch… but Booker's on the nose is so much brown sugar, vanilla and caramel. You could pour this on pancakes! (So delicious) The bite afterwards, since it is 63.5% alcohol by volume, is noticeable but not big enough to make me think much of it! I paid for it the next day but I enjoyed every moment I ran up the bill.
What's fun about Booker's is that they are released in batches. Mine was Batch 2015-04, called Oven Buster Batch, and here is what the Master Distiller Fred Doe wrote about it:
"This batch is called the "Oven Buster" batch for the incident that happened to my mother when she cooked with my father's early batches of Booker's Bourbon. She actually blew the oven door open using the Booker's to finish her pork roast she baked. This batch has some vanilla notes and a nice oaky full-bodied aroma. The flavor is well balanced with a finish that is pleasant and leaves you wanting another taste."
Nose: Vanilla, brown sugar, caramel, maybe a hint of oak behind the heat.
Taste: Vanilla and brown sugar from the get go, a pepper kick from the alcohol near the end.
Finish: A nice loooooooooooooooong finish, it coats your mouth for a minute and gets your salivary glands going. Your saliva and what remains is probably 40% abv. Definitely some oak finish and that lingering vanilla. Not much burn from the alcohol.
Overall, this can be a dangerous dram and I thoroughly enjoyed it.
If you're looking to get something nice for a bourbon fan, you will do quite well with Booker's.