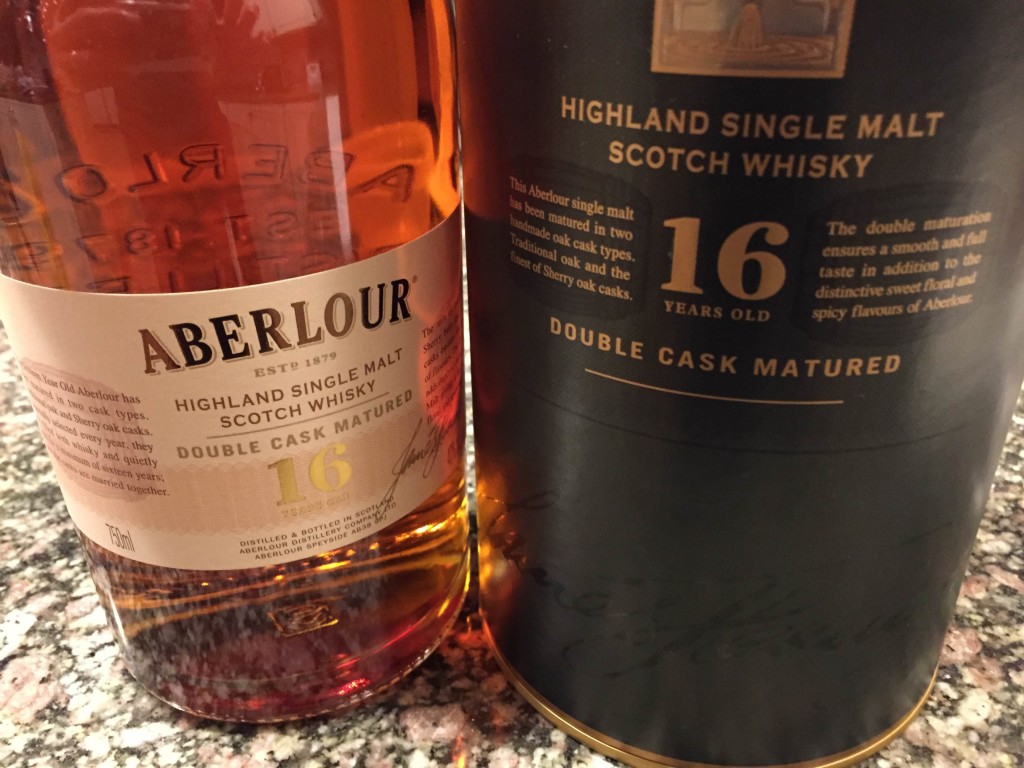 I make no secret of the fact that I'm a huge fan of Aberlour A'bunadh and it's cask strength goodness… and its sherry bomb.
This is actually the first 16yo I remember trying, it's a strange number to see (until recently) because you see a lot of 12 and 18, but not many 16s besides Lagavulin (and until the last few years, Jura and Glenlivet Nadurra). But I figured I've had the 12 before (delicious), I've had the A'bunadh which has no age statement (also delicious), why not give the 16 a run?
The double cask is actually pretty standard for Aberlour. It refers to the two casks in which the whisky are matured, traditional oak (bourbon) and sherry, and their 12, 15, 16, and 18 are double cask matured. The maturation in each type of cask may be different but each of those spends time in both.
Tasting Notes:
Nose: A very light sherried sweetness, hint of chocolate & caramel, fresh fruit like berries
Palate: Nice balance of the sherry flavors and bourbon/oak flavors, has a buttery mouth feel, vanilla
Finish: Medium finish, sugary honey sweetness, now a little more dried fruit comes through, like raisins
If you're into awards, it won the Silver Outstanding for the Speyside category of the IWSC in 2013 and 2014 plus Gold in the 13-19yo single malt category at the 2013 San Francisco World Spirits Competition.
My gut reaction to the 16yo is meh.
The retail price of this bottle is $74 and my feeling is that you get better value out of Aberlour A'bunadh at $85 and Aberlour 12yo at $58. If you love yourself some sherry, go with the A'Bunadh, it'll knock your socks off with sherried goodness (and alcohol!). The 16yo will seem "light" by comparison. The Aberlour 12yo represents a better value, the 16 is more refined but not worth the 28% higher price tag.
If you want to try Aberlour for the first time, go with the 12yo or the A'bunadh.
If you're a fan already and want to try some more, the 16yo is a good scotch whisky, it's just not a great price. You get a little more oompf than the 12yo but waaaay less than the A'bunadh. So if you think you like A'bunadh but the sherry was too much and the 12yo was just not quite enough, the 16 is a good middle ground.