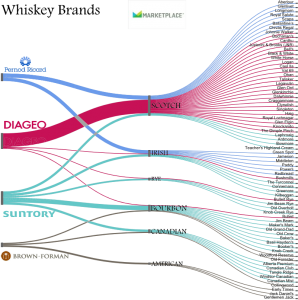 (Click to enlarge)
American Public Media's Marketplace created an interesting graphic last week, a chart that shows which conglomerate owns which whiskies. Knowing what I do about whiskies, it's obvious that they started the chart with the four big companies on the left (Pernod Ricard, Diageo, Suntory, and Brown-Forman) and simply listed their owned brands on the right.
That's the only reason why you could possibly exclude the Edrington Group and its ownership of popular brands like The Macallan, Highland Park and The Famous Grouse. Macallan is one of the most well-recognized single malt scotches and The Famous Grouse is is one of the most popular, and Highland Park is a fine name as well.
How about William Grant & Sons? Owners of Glenfiddich and Balvenie, two of my favorites. (can I get some love for the Balvenie DoubleWood?)
Oh, and let's not forget the enormous United Spirits Limited, which is Indian based, and owners of The Dalmore, Jura, and Whyte & Mackay.
Finally, how they built the chart is also why you don't see a lot of independent brands on the right, companies like D Johnston & Company (owners of Laphroaig) and
That said, this trend of big conglomerates buying up smaller companies (or simply merging with other large companies) is not unique to whisky. Or beverages.
It's everywhere.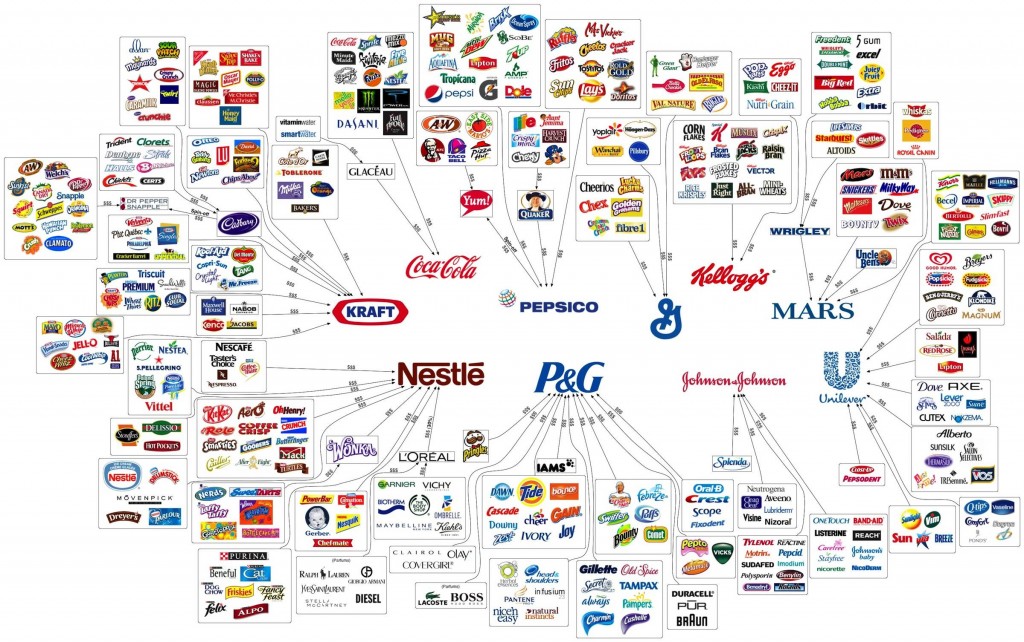 (Click to enlarge), from Reddit
Personally, I have no preference. I like what I like and I'll continue to buy more of it, whether they're independently owned distilleries or ones owned by conglomerates. I'm pretty sure I have a bias towards the whisky distributed by conglomerates because that's simply what I'm able to find in stores in the United States.
If you have a favorite "small" distillery not (yet) owned by a conglomerate, let me know in the comments!