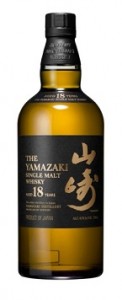 Despite naming myself a scotch addict, I do enjoy whiskies of all nationalities and I was happy to learn that Suntory Liquors was named Distiller of the Year at the 17th International Spirits Challenge in England. It was the second year in a row that Suntory, maker of Yamazakie (among others), has taken the award, which is given to the distiller who "consistently produces a variety of high-quality products."
As it also turns out, Yamazaki 18 and Hakushu 25 took home the highest awards as well, rated at 90 – 100 based on the ISC's rating system. It's not a simple ranking of best to worth but a review of the product itself with "outstanding product, exceptional quality" being the benchmark for the highest score. There are the only two non-Scotch Whiskies to get this highest rank.
If you've never had Yamazaki, named after the district in which the distillery operates, I suggest you give it a try because it's a fine dram. Thus far I've only had the 12 year old but I look forward to trying a few of the others in the near future!