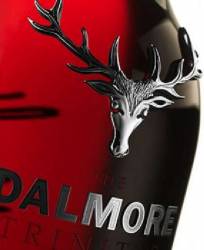 Dalmore had three bottles of its Dalmore 64 Trinitas and has sold two of them. The Dalmore 64 Trinitas has a price of £100,000/€113,510 each, or approximately $156,980 USD as I type this and only one bottle is left. The first buyer was American collector Mahesh Patel, who claims to have over 1,000 bottles in his collection. It's unclear who purchase the second but the third was reserved for The Whisky Show 2010 in late October (you buy tickets to the show and a winner will get to sample some!).
Curious about the notes for the 64 Trinitas? Well, first of all they took a mix of their blends from 1868, 1878, 1926 and 1939 vintages that make up the Dalmore 62 and blended it with a vintage from the 1940s. The end result is an absurd Dalmore 64 Trinitas.
From the Independent:
According to Dalmore's tasting notes the "…bouquet is highly complex" with "notes of sweet raisins, rich Colombian coffee, crushed walnuts, bitter orange, grapefruit, sandalwood, white musk and Indonesian patchouli."

And, sippers are promised tasty waves of "sweet sultanas, figs, a caramelised topping of Seville oranges, apples, mangos and dates" with "vino dulce muscatel, marzipan, treacle toffee, soft liquorice, roasted coffee, truffles, walnuts and muscovado sugar" dancing on the tongue.
It sounds absolutely stunning that I am certain I'm not sophisticated enough to enjoy such a blend.