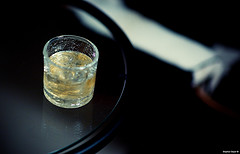 If you do any reading about Scotch, or whiskey in general, you'll often read people talk about having a dram of Scotch. Intuitively we know it's some measurement, that we pour a bit of the golden (or amber or whatever, depending what you prefer!) elixir, call it a dram, and go about our merry way enjoying it.
But, what exactly is a dram?
Historically, a dram was a coin, a unit of mass, and a unit of volume.
For volume, it's an eighth (1⁄8) of a fluid ounce.
If you're using a speed pourer, like they have in bars, you get about an ounce and a half in three seconds. For a dram, that's a pour of a quarter of a second. If you think of it in those terms, it's really not that much. (please don't use a speed pourer on your scotch!)
For all practical purposes, a dram just means "a wee bit" when you talk about Scotch. No one is holding a measuring spoon when they measure out their drams!
(Photo: stephangeyer)