If you're getting married and thinking about a gift for your groomsman, might I suggest one related to the finest drink in all of the land – scotch?
A friend of mine asked me what would make a good gift for groomsman and honestly I never thought about it. I went online and saw some really silly ideas, like blending kits and aging kits and engraved barrels.
C'mon… that's ridiculous. It's expensive and who wants to AGE whisky in their basement? I don't. I want it aged in a warehouse by professionals and I'll enjoy the product of their experience and expertise. 🙂
Here are five real suggestions for groomsman gifts if your groomsmen are all fans of whisky.
A Bottle of Scotch
Clearly, the best possible gift you could get is a bottle of scotch. Decide your budget for the gift and then select a bottle at the store that fits within your budget. It doesn't get much easier than that and I guarantee your groomsman will love it. If they don't, I'll come to your wedding in their place.
Who would turn their nose up at a bottle of Scotch, right? Here's a list of double gold medal winners under $100.
Depending on your budget, you could also go with a gift set, where you bestow not only a bottle but a few glasses as well to enjoy them. Gift sets can get pricey relative to the Scotch you get. You might see the gift set be 50-100% higher than the bottle alone, sometimes less if you're lucky.
You can get bottles engraved too for some extra flair.
Decanter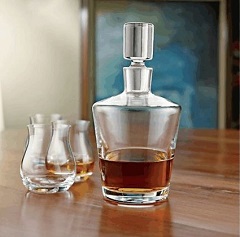 A decanter is a nice gift because decanters get displayed somewhere. A constant reminder of your friendship and of, hopefully, all the fun you'll have at your wedding.
Whisky decanters are pretty easy to buy, just remember to avoid leaded decanters and get something nice. You can get a set if you want but even just a well designed decanter on its own is a fine gift. Here's a list of decanters I like.
If you want bonus points, get it engraved.
Hip Flask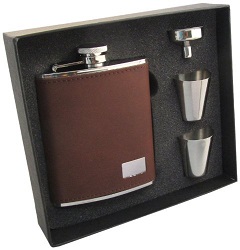 Hip flasks are great because everyone likes a flask and they're generally inexpensive, which is great if you have a lot of groomsmen and a small budget. A simple metal one will suffice, the more expensive ones are just heavier, and you can really make it stand out by getting it engraved. The downside to a flask is that a lot of men already have flasks, so you'll have to consider that.
If you do get it engraved, be a good groom by engraving it with their name/initials – not the date of your wedding. Your groomsman will remember where we got it, not need to put it on the flask. 🙂
Travel Bar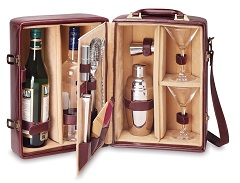 What's a travel bar you say? It's simply a nice case that holds bottles and glassware. It's a traveling bar!
Pictured to the right is a super high end travel bar, the Picnic Time Manhattan Insulated Two-Bottle Cocktail Case/Bar Tool Kit in Mahogany, it's nearly $150. It also looks amazing. Not sure how often your groomsman will use it but chances are they'll be wow'd – especially if you throw in two single malts and get rid of those silly martini glasses.
Engraved Glassware
Pick the perfect set of glasses and then get them engraved. It's simple, you know he'll use them, and it's pretty easy to do. This is a good idea if your groomsmen like to drink spirits but not necessarily scotch, since glass is glass and he can put whatever hew ants in it.
Do you have any good ideas for groomsmen gifts I missed?