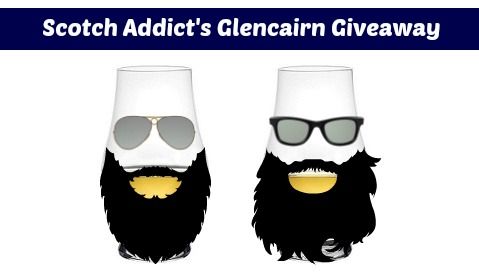 Who doesn't love a giveaway?
I've had the pleasure of running a blog about my favorite hobby, scotch, for many years (first post was December 2008) and I've never run a giveaway. Stunning, right?
Well, today that ends.
For the next two weeks, we're going to run a giveaway with a fantastic prize – a Set of 2 Glencairn Crystal Whiskey Tasting Glass!
I have several of these and they're based off the design of glasses in whisky tasting labs.
The glass is sturdy with a heavy glass base that keeps it balanced in your hand. It's impossible to tip over, because of where the weight is distributed, and the tulip shape directs the lovely aromas of whisky right into your nose.
Of the various whisky glasses, these are my favorite.
How to Enter
First, and this is optional, marvel at the beauty of the Glencairn. 🙂
Only two steps for your official entry to win the finest in whiskey enjoyment vessels.
1. Sign up for our email newsletter
I send you hand written emails about the enjoyment of the Scotch and other fine spirits, but mostly whisky.
Aweber may be down now, if you are having problems, shoot me an email!
2. Use this Rafflecopter widget to gain entries
You must do one of these to gain an entry.
There are several ways to gain entries – liking us on Facebook (the only "required" entry Some have emailed me to say you don't use Facebook, so I removed the requirement), leaving a comment on this post (Answer: What is your favorite whisk(e)y?), following @scotchaddict, and tweeting about the giveaway. You can only do each entry once, except for tweeting, which you can do every single day.
Giveaway ends March 7th, 2014. US entrants only please. Void where prohibited. If you have a question, please email me.
Beards and sunglasses not included. 🙂
Congratulations Mike F!