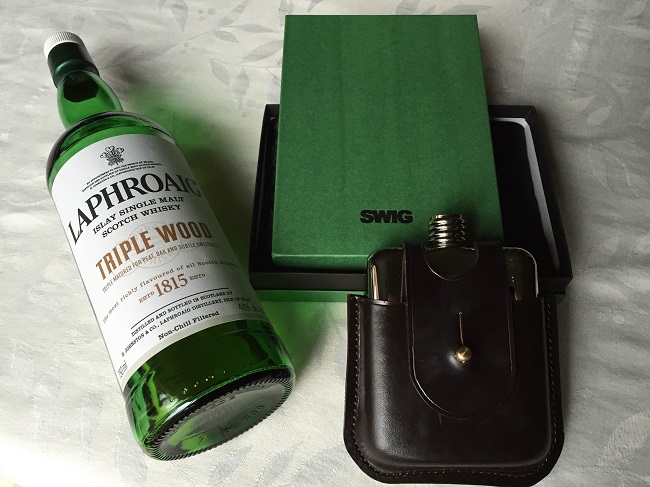 First things first, I received a review flask for free from SWIG. Let's get that out of the way – they didn't pay me to review it but they did send me one so I could review it in the first place.
What you're looking at is their SWIG Heritage – Dark Havana Flask next to my own bottle of Laphroaig Triple Wood. I thought it'd make for a good photo since the box it came in was the same color as Laphroaig's green bottles.
Overall Thoughts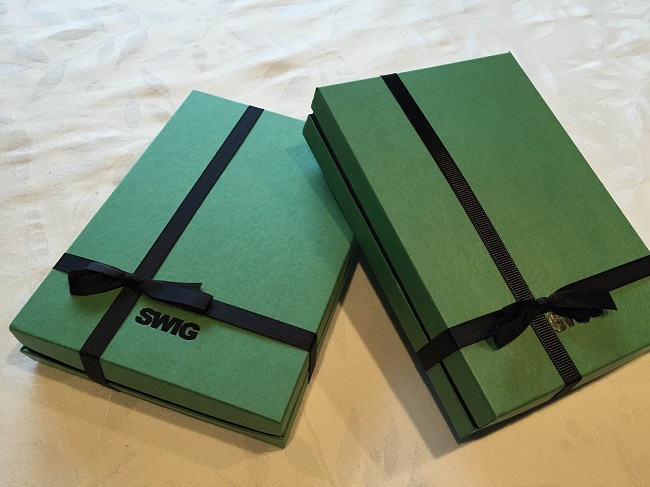 They really did a great job of presentation. It reminds me a lot of how a high end purse is packaged actually.
I received two green boxes, each wrapped in a black ribbon, that contained the flask and the leather case. Each rested on a paisley cushion that was a nice touch.
This thing is beautiful. The flask itself is so shiny, engraved with my SWIG Society number, and looks right at home in its leather case.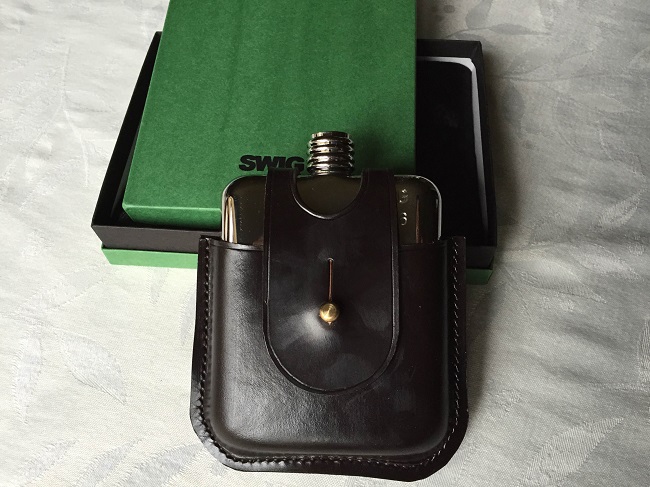 About the Flask
The thing is, flasks are flasks. I said so in my list of the best whisky flasks (written before I even knew about this flask) and this one checks off all the boxes that I look for in a flask.
Where it separates itself is in two things. The flask itself is one single piece. No seams, no welds, just one single body so it will never leak. You can't beat that.
Secondly, the leather is smooth, very nice, and it's cool that they work with a local leatherworker to source this. Here's his note:

I went to the website and Gary, the guy who signed the note, also runs a B&B! His leather working business does belts, satchels, and a few other products – this is literally a cottage industry. I think that's pretty awesome.
Final Thoughts
They've really taken a simple hip flask and elevated it in its presentation. The box, the paisley cushion, the handwritten note – all very nice touches that add a luxury feel. All things you want whenever you're giving someone a gift.
Productwise – the flask you see in the photos is their only flask. To differentiate, they do offer a variety of different holders (such as tweed and wet moulded in different colors). They also offer engraving, to add even more personalization.
If you're in the market for a gift for that special someone, you might want to give SWIG Flasks a look.