I'm going to start a new series here at Scotch Addict, photos of duty free shops in international airports.
I'm afraid I don't that much travel anymore but many of you do — so if you go on travel and find yourself in a duty free store, mind taking a few shots and sending them my way? I'll compile a gallery and then folks can do a little planning ahead of time.
Today's photos come from Toronto Pearson International Airport and are courtesy of Gary (Thanks Gary!). Toronto seems to have a very extensive collection of single malts and blends, both retail and travel, and chances are you can find nearly anything you could want there.
Gary: This is the duty free in Terminal 1 by gate 60. As soon as you clear customs and the final airline check and head downstairs. They had a little bit of everything, and did have some labeling describing the scotch. Such as Highland, Lowland, also labeled as to the amount of peat/smoke.
You can see a lot in this shot. You have the same row of Glenfiddich (along with some travel retail specials at the top row, Age of Discovery), below the Grant's there is a lineup of Balvenie and Glenmorangie right under that in that first section. In the middle section, the bottom row is the travel retail boxes of Macallan. Above it is Glenkinchie and then some Aberfeldy.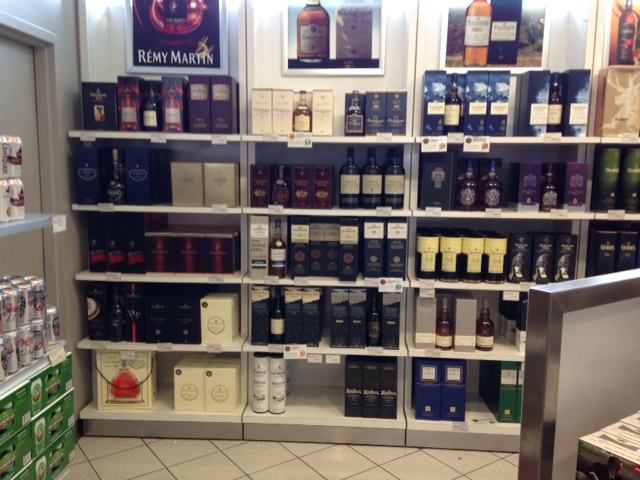 This is straight on — the top row of that middle shelf was Talisker with some Chivas Regal below it. In the shelf to the left we can see ther eis Glenlivet above Coal Ila, Laphroaig and Ardbeg. With Talisker so prominently displayed in that other shelf, I'm surprised Laphroaig and Ardbeg are at the bottom here. I guess they didn't pay their shelf dues. 🙂
Last shelf is Cognac — nice little selection.
Closeup of the shelf with Dalwhinnie at the top, followed by Cardhu, Glenlivet, and the Islays.
An entire rack devoted to Johnnie Walker… Blue gets the position on high.
Thanks again to Gary!