This week's report from the Nuremberg Airport (Nürnberg) duty free store comes from none other than Gary, who has sent in the most duty free reports of any reader (thank you Gary!). This report and photos come from the duty free shop by Gate A16.
As Gary said, and I agree, "Nice selection for a smaller airport. A few things I haven't seen before."
That's for sure.
Nuremberg is an international airport (obviously, since it has duty free) but it served only about 3.3 million passengers in 2013 and is the 10th largest airport in Germany. By comparison, the world's busiest airport, Hartsfield-Jackson Atlanta International Airport, saw 94.4 million passengers in 2013. Germany's most popular, Frankfurt Airport, saw 58 million passengers in 2013.
That said, still a decent selection at the store outside Gate A16.

Top row: Ballantines and Tullamore Dew
2nd row: Jim Beam and more Tullamore Dew
3rd row: Jim Beam Honey, small bottles jim beam, Jameson
4th row:Bushmill 10yo, regular Bushmill, Bushmill honey and teachers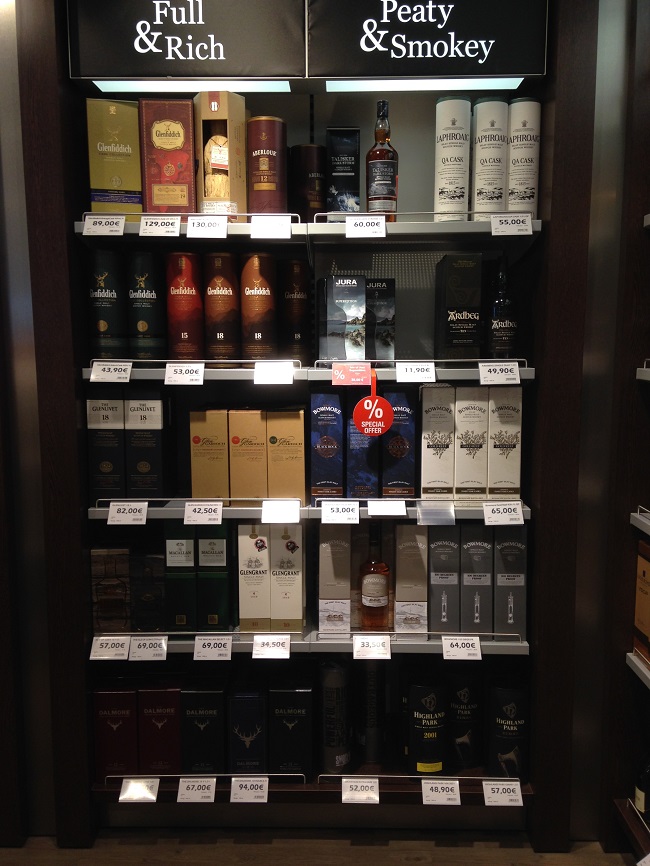 Top Row: Glenfiddich Vintage Cask, Glenfiddich red wine cask, Macinlays shackleton blend, Aberlour, Talisker Dark Storm, Laphroig
QA Cask.
2nd Row: More Glenfiddich, Jura Superstition, Ardbeg 10
3rd Row: Glenlivet 18, Glen Garioch Founders Reserve + 12, Bowmore Black Rock and Gold Reef.
4th Row: Jura 16 and Jura Prophesy, Macallan Select, Glen Grant 10, Bowmore Surf,Bowmore 100 degrees
proof.
5th Row: Dalmore 12 15 and 18, Smoke Head extra rare, Highland park Vin2001 and Einar.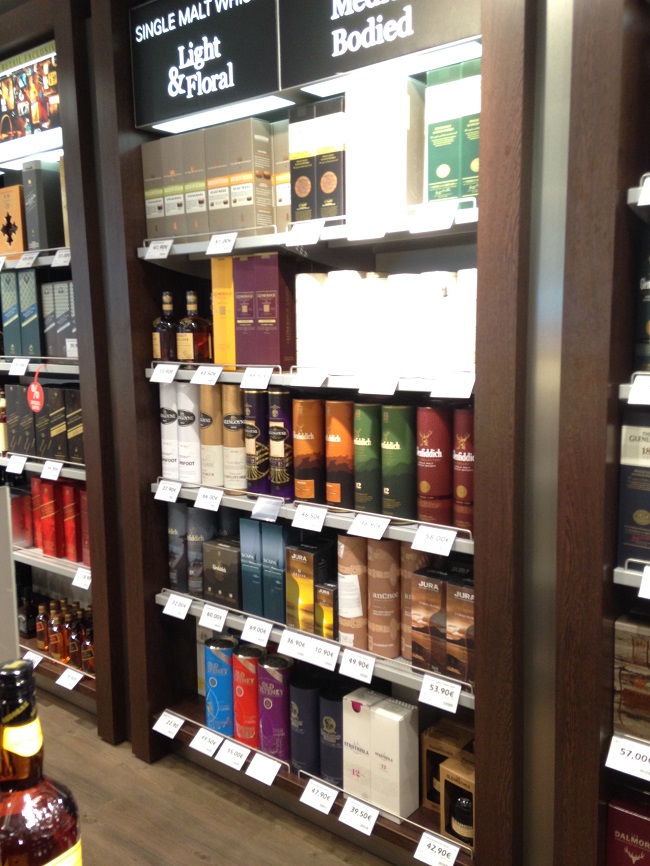 Top Row: Auchentoshan spring wood and heartwood,
2nd row: Monkey Shoulder, Glenmorangie, And unfortunately the Balvenie which is all whited out
3rd Row: Glengoyne big foot and distillers gold, Glenfiddich
4th Row: Glenfiddich, Glenfiddich 3 pack, Scapa 16, Jura 10 origins, anCnoc Peter, Jura Tiraspol Mara,
5th Row: Old Pulteney lighthouse, strathisla 12, Glenrothes
Their duty free has a list of spirits promotions its running too if you are planning a trip through there.
Thanks again Gary!