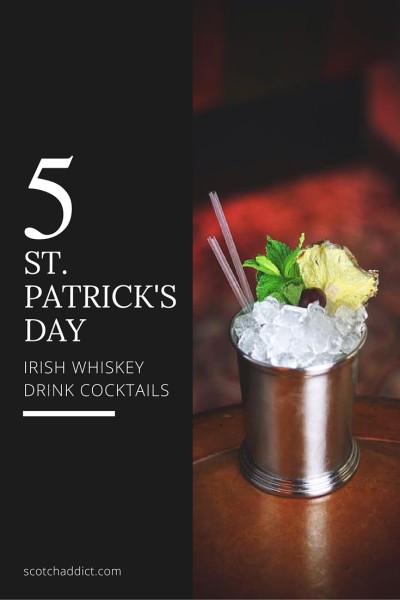 When I'm sitting at home by myself or with a few friends, my drink of choice is a whisky of some kind, neat.
When I'm out with friends, at a restaurant, or at a party – my whisky is usually in a cocktail. I think the atmosphere of fun and friends lends itself to a fun and friendly cocktail. Whisky neat seems a little more reserved and serious, not fitting the environment. (there's also the safety aspect, with a cocktail I can better regulate my consumption… it's easy to sip whisky too fast and then who drives?)
So, as we near St. Patrick's Day… my friends at Teeling (I wrote up tasting notes for their Single Grain a while back) sent along some ideas for tasty cocktails I should try as we celebrate the Apostle of Ireland.
We have five on the menu and what is intruiging about each is that they offer something different for each aficionado.
Not Ready For the Holidays to End? Hot Buttered Whiskey
1.5oz (50ml)Teeling Small Batch
4oz (120ml) Hot water
1 Tbsp spiced butter mix (recipe below)
Aerated double cream with orange zest.
Ground Nutmeg (as garnish)
Spiced butter mix

Put ½lb (230grm)softened unsalted butter, ½lb(230grm) muscavado sugar, 1 tsp ground cinnamon, 1 tsp ground Nutmeg, 1 tsp ground all spice, and ¼tsp ground clove into food processor and blend it into a paste. Enough for 10-12 portions of Hot Buttered Whiskey.
Preparation: Use a heated heat-proof glass, add hot water and 1 Tbsp of spiced butter mix and stir until dissolved. Add whiskey and a layer of aerated cream. Garnish with ground nutmeg.
The Teeling Small Batch works well in this because it's rum cask finished, so this is like a Hot Buttered Rum but with whiskey.
For a Pick Me Up Mid-Party? Irish Coffee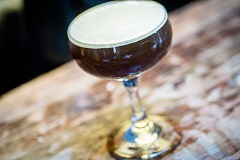 1.5oz (40ml)Teeling Small Batch
1.5oz (40ml) Rich Double Espresso
0.75oz (20ml) Demerara sugar syrup
3.5oz 100ml Hot water (Not Boiling)
Organic Fresh Cream infused with orange zest, lightly aerated
Sprinkling of freshly grated nutmeg
Irish coffee is pretty simple to prepare, just mix the first four ingredients together and then top with some fresh cream and garnish with a sprinkle of nutmeg, fresh if you have it.
Love Your Sours? Try a Liberties Sours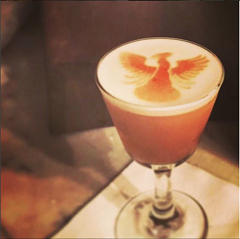 1.5oz (40ml) Teeling Small Batch
0.75oz (20ml) Draught Guinness
0.75oz (20ml) Lapsang Souchon Tea Syrup (recipe below)
0.34oz (10ml) Fresh Lime Juice
0.75oz (20ml) Egg White
3 dashes Angostura Bitter
1 dash Chocolate bitters
Lapsang Souchon tea syrup
In a pot, put a Liter of water, 2.2 lb (1 kg) of Demerara sugar, and 1.76 oz. (50g) loose Lapsang Souchong tea. Bring to a simmer and infuse for 4-5 minutes and all sugars are dissolved. Strain out tea leaves.
Preparation: Once you've made the syrup, the rest is pretty easy. Add all the ingredients to a cocktail shaker with ice and shake for 10-12 seconds. Strain off the ice and dry shake without ice for 10 seconds. Garnish with butters.
Feeling Feisty? Redleg Rebellion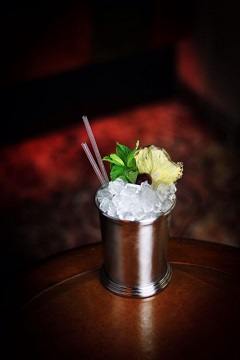 1.00 oz. (30ml) Teeling Small Batch
0.75 oz. (20ml) Clement Creole Shrub
0.34oz (10ml) Taylors Velvet Falernum
0.75 oz. (20ml) Lime Juice
0.75 oz. (20ml) Pineapple Syrup
Preparation: Pour all ingredients into a cocktail shaker and shake vigorously for 10-15 seconds. Strain into a rocks glass with crushed ice. Garnish with a pineapple slice, mint sprig and cherry.
Sound familiar? This is a Mai-tai, but with whisky. 🙂
A Party Punch: The Tipperary
50ml Teeling Single Grain
20ml Sweet Vermouth (Carpano Antica, Dolin or similar)
10ml Green Chartreuse
2 dash Peychauds bitters
Add all ingredients into a glass with ice and stir until mixed. Garnish with a lemon peel. Drink with gusto. 🙂
Enjoy this St. Patrick's Day, however you do it, and let me know what you did! 🙂