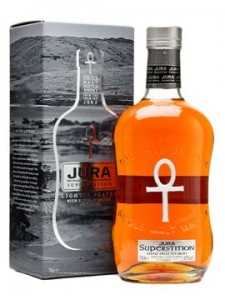 When I first started drinking scotch a few years back, I didn't know much outside of the most popular distilleries. Glenlivet, Glenfiddich, Laphroaig (even though I couldn't pronounce it worth a damn), Ardbeg, and, of course, Macallan were all names I'd become familiar with. When I went through Heathrow's duty free, I stumbled onto many unfamiliar names.
One of them was Jura, which I later learned was the Isle of Jura. The bottle I picked up was one of their standard year expressions (I have to admit, the Ankh did catch my eye) and I thoroughly enjoyed it. Recently, I had the opportunity to sample the Jura Superstition and came away smiling.
As you may have recognized with my earlier listing of familiar names, much of my young Scotch sampling days were spent either on opposite sides of the peatiness and smoke spectrum. Jura Superstition is a blend of their Jura whiskies that seeks to straddle the two sides. It's billed as "Lightly peated with hints of smoke and spice" and I'd say that was accurate.
The color is a nice caramel that prepares your nose for the honey notes to follow. There's that sharp but soft sweetness of pine sap (I had one that oozed outside my childhood home and I immediately thought of it) that is also present on the palate. It's a clean and refreshing flavor, no spiciness, with a short finish that barely lingers. There's a smokiness that's barely evident, like it just spent some time with the wrong crowd, that gives it depth but doesn't make you think you may have accidentally poured yourself an Islay.
Overall, a clever dram that fills the void if you're looking for just a hint of smoke to remind you that you're drinking a spirit that spent some time inside a charred barrel.