It's only a couple weeks until St. Patrick's Day and Castle Brands send me a sampling of their lineup. Castle Brands makes a line of single malt irish whiskey, which is essentially "Scotch whisky" made in Ireland. They use malted barley, Irish spring water, and no peat.
The expressions I had a chance to sample were part of the Castle Brands lineup:
Celtic Honey Liqueur
Clontarf 1014
Knappogue Castle – 12 YO
Knappogue Castle – 14 YO
Knappogue Castle – 16 YO Twin Wood
Celtic Honey
Celtic Honey is billed as a liqueur with a 30% abv and a pale amber color. They take Irish whiskey (they don't say what they use) and add to it Irish honey and botanicals, the end result is a sweet honeyed liqueur that has some hints of spice to it.
It's very light in body with the honey and vanilla really shining through. The nose is sweet, so very sweet, and there's little finish.
I had a little sip neat and it cannot be consumed neat (nor is it supposed to, it is a liqueur so I only have myself to blame). I wanted to try it neat so I could write intelligently about it and what I can say is that it lacked the heat of a whiskey, even at 30%, and the sweetness was very strong. My reaction is best described as surprise, as you would if you drank 7-Up or Sprite thinking it was club soda.
It reminds me a lot of my first reaction to Macallan Amber Liqueur, which was Macallan infused with Maple syrup. That too was too sweet but a clever idea, but sadly discontinued.
Clontarf 1014
Clontarf 1014 refers to the Battle of Clontarf, which took placed on April 23, 1014 – a historic day in Ireland. Triple distilled and aged in bourbon barrels, Clontarf is a 40% abv amber blended Irish Whiskey that doesn't really stand out in any particular way — except it's extremely affordable.
It's a light amber color with an equally light body, some sweetness and maltiness. Finish is short with a hint of citrus.
Very easy to drink and it makes me feel like it would do well in a cocktail as it adds just a bit of sweetness but not too much, like a Manhattan. I don't drink a lot of cocktails at home, it's just a little too much work :).
Knappogue Castle Single Malts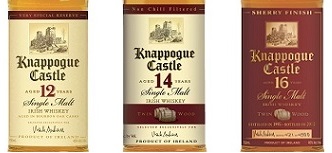 The Knappogue Castle expressions are all single malt Irish whiskeys, named after Knappogue Castle. Knappogue is a 15th century castle in County Clare, Ireland.
The Knappogue Castle 12 YO is a light gold, 40% abv, and fruit forward. Apples and bananas give you a one two punch of crisp and calming, with some maltiness and cereals, plus an overall sweetness and lightness that makes it very easy to drink. Medium finish and warm, a hint of spice at the end. Available for $48 at my local Total Wine liquor store (it's the only Knappogue available nearby actually).
The Knappogue Castle 14 YO Twin Wood is a limited edition release at 46% abv with only 2,000 bottles produced (fun fact sheet). They spend 14+ years in bourbon casks and then finished in Oloroso Sherry casks. Not chill filtered and no coloring added, which is evident in its light yellow color.
It's fruity and sweet, much like the 12 YO, but has a little more depth and body. I really enjoy the marriage of the citrus with light honeyed vanilla sweetness. The spices at the end really tie it all together as a nice dram.
The Knappogue Castle 16 YO Twin Wood is bottled at 40% abv (4500 bottles made) and has a slightly darker reddish color compared to the 14 YO. Much like 14 YO, it spends most of its life in a bourbon barrel then aged the last 9 months in Sharry casks. Side by side, it's a lot like the 14 YO in character, but overall it just seems more mellow and refined. You get all of the citrus, honey, malt, but it's all married together nicely.
Irish to the Core Contest
If you're interested, they're running a contest that includes a grand prize trip to Ireland for 5 days (plus $500 spending money), plus some other cash prizes. That contest ends March 23rd.
If available, I'd go to the store to buy either of the Twin Woods. Clontarf makes for a great whisky to mix cocktails with but I prefer to enjoy my whisky neat. Celtic Honey, to be honest, I just wouldn't know what to do with it.